Classics
Professors: Anne-Marie Moscatelli, John Rosso
We regularly offer Latin 101 and 102 (first year) and 201 and 202 (second year). More advanced students can take courses at the 300 and 400 levels. We offer the minor in Latin.
Our catalogue contains a wide variety of upper level classical Latin courses. LAT 305 is a reading course; and there are a number of genre course offerings as well. We do not offer a major or certification in Latin.
We offer elementary and intermediate Biblical Hebrew: 101, 102, 201, 202.
We offer first, second and third year Greek: 101, 102, 201, 202, 301, 302. GRE 301 and 302 are topics courses which may be repeated for credit as the topics change.
For more information regarding our programs, please call Professor John Rosso at 610-436-2636 or Dr. Anne-Marie Moscatelli at 610-436 2383.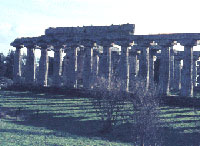 Back to top of page.