PA-ADOPT
---
The Pennsylvania Alliance for Design of Open Textbooks (PA-ADOPT) is made up of four participating institutions from Pennsylvania State System of Higher Education (PASSHE) that are all regional and primarily undergraduate institutions, situated in Southeastern Pennsylvania.
The PA-ADOPT project will, address gaps in the open eTextbook marketplace, improve student learning, and mitigate rising student costs.
PA-ADOPT will address two emerging issues of regional and national concern. The first is the need to decrease cost of attendance for Pell eligible students and the second is the need to decrease the cost of attendance for majors needed to fill growing STEM-H (Science, Technology, Engineering, Mathematics, and Health Professions) workforce demands. To address these concerns, books produced by this project will focus on STEM-H and high-enrollment Writing courses, as the ability to write in a clear and organized manner is critical to the communication of scientific knowledge. We estimate that the PA-ADOPT project, could save students approximately $400.00 per year (one introductory and one advanced STEM-H course)​.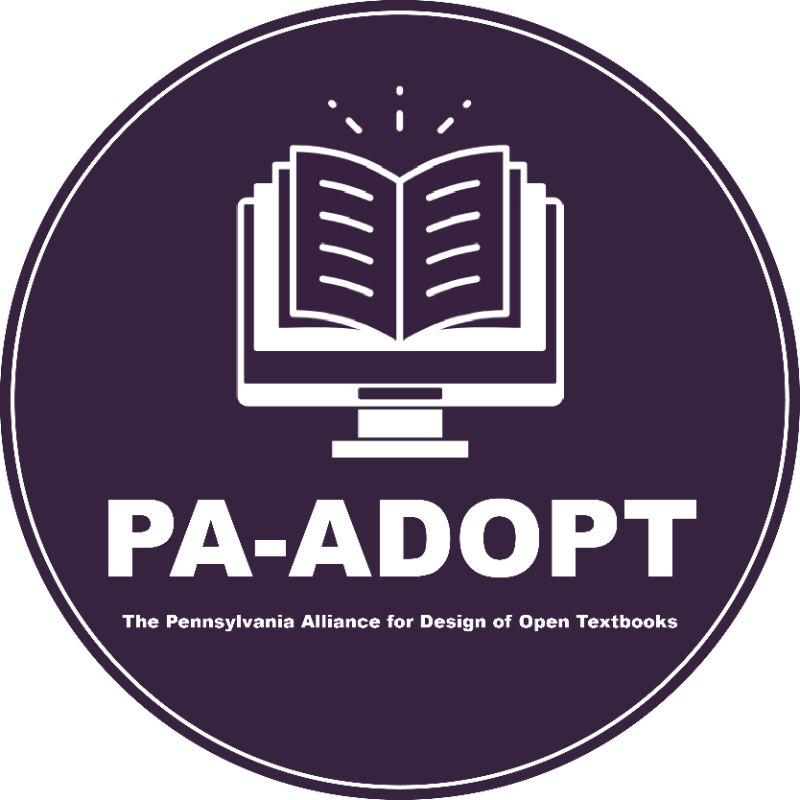 Funding Support
PA-ADOPT was made possible by the US Department of Education Open Textbook Pilot Program.
Goal/Aim
PA-ADOPT seeks to create a collection of high-quality eTextbooks that are freely distributed using the principles of Open Educational Resources (OER).
Objectives
Objective One
Training faculty throughout the four participating institutions to develop competencies needed to author open eTextbooks.
Objective Two
Establishment of a new process for copyediting and peer-review in addition to regular technical review of the open eTextbooks.
Objective Three
Establishment of a shared space across the PA-ADOPT institution for publishing and distributing the completed, open eTextbooks with a primary focus on student and faculty accessibility.
Objective Four
Establishment of a new process for project evaluation that includes continuous improvement of the eTextbooks based on input from faculty and students.
Participating Institutions
Timelines and Activities
Activity
Topics
Dates
Introductions/PA-ADOPT Goals

Leadership Team and PA-ADOPT Instructional Designer meet with faculty authors

Unit 1: Getting Started

eTextbook requirements and resources
Current state of eTextbooks
eTextbook components

11/11/21
11/11/21
11/29/21

Unit 2: Planning and Preparation

Legal Issues
Accessibility
Adding functionality with third-party tools

11/29/21
12/17/21
01/21/22

Unit 3: Construction

Using open editing software
eTextbook design using QM standards
Submitting the first chapter for technical review

02/18/22
03/18/22
04/15/22

Unit 4: Completion

Technical support and copyediting

Summer 2022
Unit 5: Draft Submission

Draft submission for peer-review and formative (implementation) faculty author evaluation

07/15/22
Final Revisions

Post peer-review submission of the final eText

10/14/22
Final eTextbook Submission

Final eTextbooks submission is due

02/28/23
Activity
Topics
Dates
Introductions

Leadership Team and PA-ADOPT Instructional Designer meet with graduate student copyeditors

01/24/22
WordWorks Copyeditor Training

ENG 504, Methods and Materials in Publishing
ENG 515, Technical, Scientific, and Medical Editing

Spring 2022
Copyediting Process

Copyedit open eTextbook chapters and give feedback to assigned faculty author

Summer 2022
Copyeditor Feedback

Formative (implementation) copyeditor evaluation

07/15/22
Activity
Topics
Date
Introductions

Leadership Team meets with faculty peer reviewers and KU workshop leaders

05/20/22
PA-ADOPT Peer Review Workshop

Common benefits and misconceptions about open eTextbook adoption
Characteristics of effective eTextbooks
An overview of the eTextbook review process
Using the Open SUNY Textbook Peer Review Guidelines
Providing constructive feedback to authors

06/17/22
Peer Review

Peer reviewers will complete an evaluation rubric with written comments for PA-ADOPT authors based on the Open SUNY Textbook Peer Review, provide the Leadership Team with a brief book review, and participate in formative (implementation) evaluation

07/15/22 – 09/16/22
Project Consortium
Project Management
The Office of Digital Learning and Innovation at West Chester University
Partnership & Shared Responsibilities
Cheyney University
Project Evaluation: coordinating project evaluation with External Evaluator
Kutztown University
Peer Review: KU OER Peer Review Workshops
Millersville University
Publishing & Distribution: MU Library and Learning Forum Repository
West Chester University
Faculty Author Training: eTextbook creation and best practices
Copyediting: WCU WordWorks Program
What is OER?
Open Educational Resources (OER) are instructional, learning and research materials, digital or non, that open-source and in the public domain or that are licensed so that users have free and perpetual permission to engage in the following activities:
Retain: the right to make, own, and control copies of the content
Reuse: the right to use the content in a wide range of ways
Revise: the right to adapt, adjust, modify, or alter the content itself
Remix: the right to combine the original or revised content with other open content to create something new
Redistribute: the right to share copies of the original content, revisions, and remixes with others.

Back to top of page.