The Director - Dr. Kevin W. Dean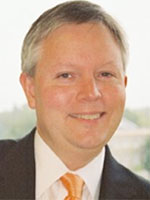 As I begin my twentieth year as the Director of the Honors College, I remain amazed in seeing where we have come and excited to consider where we have yet to go. I remember an interview I had in 1996, as part of my Kellogg Fellowship with the president of Kennesaw State University in Marietta, Georgia. Upon meeting me she said, "So, tell me, what's your passion?" Without hesitation, I can say my "passion" today is the work happening in the name of West Chester University Honors. From our curriculum to our greatest asset, the gifted young men and women who hold membership in Honors, our College truly embraces our mission, "to be honorable is to serve."
Without question, the cornerstone of the Honors College is the curriculum. Grounded in the liberal arts tradition of education, we offer an interdisciplinary course of study focused on personal leadership development. Our mission challenges students to reflect upon what contributions they will make to their communities — perhaps the greatest testimony to the value of a higher education degree. Our curriculum prepares students to discover their own giftedness, to see the value of team approaches to problem solving, and to have exposure to the components necessary to enact real change. The core courses replace traditional general education courses. To make logistics of Honors work with every major program on campus, Honors students receive enhanced scheduling.
Our students remain the unquestionable pride of the Honors College. Students in Honors represent a diversity of academic backgrounds spanning over 60 distinctive disciplines. Such diversity truly enlivens discussions in class when a pre-med major and a major in music education can come together to discuss strategies for economic enhancement, formation of ethical standards for genetic testing, and approaches to survey research. While students spend a majority of their time with peers in their home departments, the University created specific space for an Honors living-learning community. All incoming first year Honors students reside in designated Honors housing on the 7th floor of Allegheny Residence Hall; for those who wish, we guarantee housing in Allegheny for the length of the program. The amenities (two person suites with private baths and a room thermostat to control heating and air conditioning) coupled with a spacious group meeting room, video/film technology lab, music practice room with a Steinway piano, free on-floor washing/drying, and an ice machine, dramatically add to a sense of community and create a living environment conducive to academic success. The Honors Student Association (HSA), the social arm of the College, holds monthly meetings and hosts a wide range of service and social opportunities each month. Through H.S.A., students clocked over 1,800 hours of community service and volunteerism. I am particularly proud of the multiple times in recent years they have been recognized, out of over 350 campus organizations, as the Outstanding Service Organization of the Year. In addition to multiple opportunities for on campus and community service each month, sample activities include: a bus trip to Washington D.C., fall NYC trip to see a Broadway musical, Halloween Haunted Hay Ride, community Thanksgiving Dinner, Valentine Date Auction, special movie and theatre performances, guest authors, holiday party in Princeton, formal dance and awards night, sponsorship of our annual Graduate School Fair, our annual Aid for South Africa (ASA), the organization's signature philanthropic and educational event supporting HIV-AIDS afflicted children in South Africa, teacher celebration tea, and the senior spring banquet and medallion presentation ceremony.
Our service/research project in South Africa, involving a team of 43 Honors students and faculty, constituted a highpoint in May 2016. In addition to seeing wildlife and splashing in the Indian Ocean, students conducted a community needs assessment in Paarl, just miles from Cape Town. Students also worked at H.E.L.P. Ministries Soup Kitchen (feeding as many as 6,000 elementary school children daily), spent time at Nkosi's Haven (care center for mother's with HIV-AIDS and their children), and met with members of South Africa's original Truth and Reconciliation Commission . This marked our 7th such study project since 2001. We anxiously anticipate our 8th South Africa study project planned for May 2018. We hope to conduct in depth interviews with leadership icons who helped transform South African culture from the oppression of apartheid to the opportunity of democracy. I am so proud of the contributions to improved communication and access to health care that our students' research has encouraged.
We also anticipate fruitful developments stemming from our 2015 study program to Norway. Our relationship with the Norwegian Nobel Peace Institute earned us the opportunity to submit a nominee for formal consideration for the 2017 Nobel Peace Prize! Finally, as we look towards fall 2018 and our "40th Anniversary Celebration of Honors" at WCU, we anticipate even greater opportunities for interaction between our alumni and current students. Speaking of alumni, the graduating class of 2016, now swells the ranks of WCU Honors College alumni to over 700! Our most recent graduates gained acceptance into medical school at Drexel, Penn State and Jefferson, dental school at the University of California-San Francisco, law school at Widener, and graduate programs in psychology, history, organic chemistry, physical chemistry, linguistics, occupational therapy and theology, at George Washington, Syracuse, Indiana, and Yale Universities, the Universities of Wisconsin, Maryland and Pittsburgh, and Princeton Theological Seminary. Others have attained jobs in education, public relations, and business. How exciting to watch the "next steps" of our outstanding men and women.
With all that we have done and all that we have planned, I am confident in Robert Browning's words, "The best is yet to be." As always, I am anxious to meet with any of you to discuss your passions and learn "what difference YOU will make."
Back to top of page.