New Faculty FALL 2022
Department of Art and Design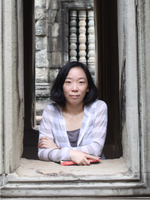 Nogin Chung is a specialist in modern and contemporary art. She offers courses such as Modern Art Seminar; Contemporary Art; Women Artists; and History of Graphic Design. Her current research focuses on the role of art in social change and examples of protest art in contemporary Asia. She has published articles and book chapters on posthumanism, public art, and American popular culture. Before coming to West Chester, Nogin taught at Bloomsburg University and University of Minnesota.
Department of English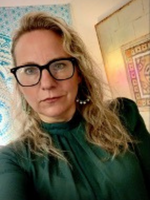 Alison Ersheid joins the English Department as an Assistant Professor. She holds an M.F.A. in Fiction Writing from George Mason University and is a doctoral candidate finishing her dissertation work at St. Johns University. Alison's research interests include student success in First Year Writing programs, supporting underprepared writers, and the intersection of creative writing and writing studies.
Department of Philosophy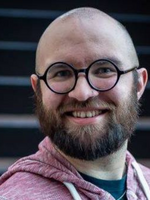 Joey Miller, Ph.D. comes to the Department of Philosophy as an Assistant Professor specializing in Native American philosophy and Ethics. After undergraduate studies in philosophy and psychology from the University of Minnesota, Duluth, he received his M.A. in Philosophy from Virginia Tech and his Ph.D. from the University of Washington, Seattle. As an enrolled member of Muscogee Nation, his research focuses on understanding the ethical frameworks of his ancestors and how these frameworks have been adapted to address settler colonialism. Before coming to West Chester University, he had taught philosophy courses at Marian University and Elon University. His work has been published, among other places, in The Journal of Value Inquiry and Philosophical Studies.
Department of Philosophy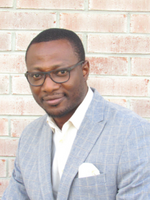 Adebayo Oluwayomi, Ph.D. will be joining the Department of Philosophy as an Assistant Professor this Fall. His research and teaching interests contribute to the areas of African/Africana Philosophy, Critical Race Theory, Anticolonial/Postcolonial Philosophy, Philosophy of Race and Black Male Studies. Broadly construed, his research is aimed at evolving a humanizing discourse around the notions of race, ethnicity, gender, and other identity-categories for members of minoritized populations or social groups. Before joining West Chester University, Dr. Oluwayomi taught at Howard University and served as the American Council of Learned Societies (ACLS) Emerging Voices Postdoctoral Fellow at Dartmouth College. His published works appear in journals such as American Philosophical Quarterly, The Journal of Black Studies, Journal of Black Sexuality and Relationship, and the Journal of Pan African Studies.
Department of English

Nancy K. Pearson joins the English Department as an Assistant Professor. She received her graduate degrees in Creative Nonfiction and Poetry from the University of Houston and George Mason University, respectively. Her research focuses on queer poetics; ecopoetry; and creative writing and composition studies. She is the author of the books, Two Minutes of Light (Perugia Press)— which won the PEN New England Award and Lambda Literary Award— and The Whole By Contemplation of a Single Bone (Fordham University Press), which received the Poets Out Loud Prize. She has been published in anthologies and journals such as Five Points, Oxford American, Gulf Coast, Alaska Review, Iowa Review, Show Us Your Papers, Ghost Fishing, Ordinary Genius, A Guide for The Poet Within, and Provincetown Arts Magazine.

Department of English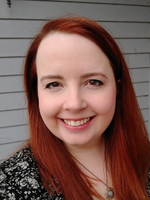 Megan Schoettler (PhD, Miami University) is Assistant Professor of Professional and Technical Writing at West Chester University. She studies feminist rhetorics and literacy practices, social justice, affect, and writing pedagogies. Her work has appeared in the Naylor Report on Undergraduate Research in Writing Studies, Standing at the Threshold: Working Through Liminality in the Composition and Rhetoric TAship, and Capacious: Journal for Emerging Affect Inquiry. Her newest article will appear in Computers and Composition in January 2023. If you're interested in learning more about Dr. Schoettler and her teaching and research interests, please visit her LinkedIn page, or email her at mschoettler@wcupa.edu.
Department of English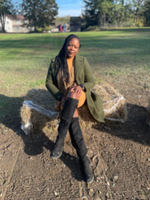 Sophia Sunshine Vilceus, known around campus as "Professor Sunshine," worked as an Adjunct Instructor in the English Department at West Chester University for several years before being promoted to Assistant Professor of English in 2022. Her courses at WCU are often centered around discourse on The Black Experience in America and White Privilege & Fragility. She is currently pursuing her PhD in The School of Education at The University of Delaware. Sophia is the author of "His & Her Will Be Done"-- "Late Conversations with my Late Mother"-- and "The Last Pew: Journeying Back to God's Will After an Affair." She, alongside some of her brilliant colleagues in the English Department, was published in The Invisible Labor Issue of The Journal of Multimodal Rhetorics in 2020.

In early 2022, on behalf of WCU's The Society, Sophia facilitated a conversation with Pulitzer Prize Winning Journalist, Nikole Hannah-Jones on The 1619 Project, Critical Race Theory, and the U. S. Education System. In 2022, Sophia received the inaugural Equity Access Inclusion and Diversity Initiatives Excellence Award in recognition of her work to advance and support diversity, equity, and inclusion at West Chester University.
Back to top of page.