April 8, 2021
New Research Points to the Strengths of Adolescent Girls Despite WWII: Anne Frank & Renia Speigel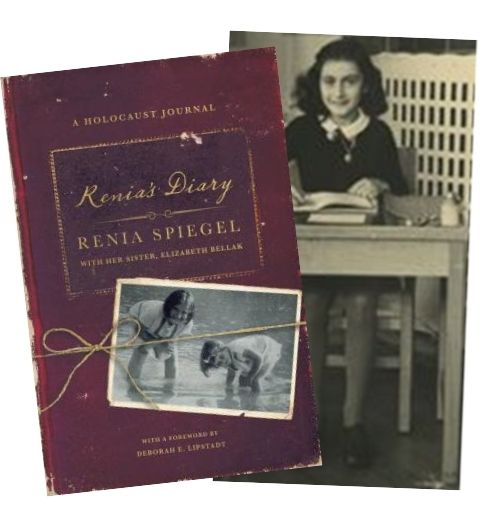 Using two dairies as primary sources of study, a West Chester University professor and graduate student have aligned to conduct research that goes against the grain of typical studies dedicated to exploring the lives of WWII's Anne Frank and most recently Renia Speigel, who has been heralded as "the Polish Anne Frank." Jenna Walmer, a master's student dual majoring in psychology and Holocaust and Genocide Studies, has spent the past year conducting a comparative analysis of the two diaries. The archival research has been supervised by her advisor, Professor of Psychology Lauri Hyers, a psychologist and diary research expert who recently published Diary Methods (Oxford University Press, 2018). The West Chester University research team has just been accepted to present their findings in May at the national conference of the Association for Psychological Science. Recently, the research team presented on the subject at the national meeting of the Association for Women in Psychology. Walmer and Hyers have also written about their research in a forthcoming chapter in the anthology Exploring Diary Methods in Higher Education Research (Xuemeng & Henderson, Routledge, 2021).
In their research, Walmer and Hyers focus on the often underestimated capacity for resilience in adolescent girls—a "hardiness" that the American Psychological Association has been arguing needs more attention by psychologists (2018). Hyers argues that diaries can be an important source of first-hand information, especially in the face of threat, when public accounts are too dangerous. Anne and Renia spent much of their diaries documenting the atrocities and horrors surrounding them. Walmer, however, also found that their grave entries were interspersed with over 150 entries about adolescence that were often full of wistful romance, complex emotions, everyday frustrations about growing up, and desire for their love interests—Anne's Peter and Renia's Zygmuth. Walmer and Hyers suggest that the secret to the girls' incredible resilience can be found in their focus on the "everyday worries and joys" of adolescence.
The researchers argue that, rather than being a risk factor, adolescence may be so all-consuming that it can be protective against situations of extreme persecution. As such, Walmer and Hyers found that social-relationships were the topic in over 80% of the adolescence-themed diary entries, a gender-stereotypical focus of girls that may buffer them from outside threats. Walmer and Hyers believe that the diaries are a testament to how adolescence can arouse intense interest and intrigue about bodily changes.
"The writing of this thesis highlights the beneficial factors of adolescent development during times of crisis," says Walmer. "I hope that this thesis not only adds to the body of literature on adolescent development, resilience, and genocide, but informs and helps those living in countries experiencing mass atrocities."
The research team points out that the idealism and optimism about the events of Anne's and Renia's adolescence did not mean the girls were in denial about the grave dangers of their time. Despite the overwhelming positivity in their adolescent-themed entries, there were many entries not focused on adolescent matters in which the girls shared the stark realities of their situation. Walmer and Hyers argue that despite mortal danger, however, the girls managed to develop somewhat normally as adolescents, although it may be hard to understand the contradiction.
"The human spirit has the capacity to rise above even the most desperate of situations," says Hyers. "Anne's and Renia's resilience should not be underestimated, and it should not surprise humanitarian aid workers, therapists, and educators working with on issues of trauma. The juxtaposition of the terror and joy in their diary writings makes their resilience even more compelling, and their rich lives being cut short all the more tragic. As Anne put it, 'Which of the people here would suspect that so much is going on in the mind of a teenage girl?'"
Back to top of page.