Hadih Deedat, Ph.D., MSW., MPH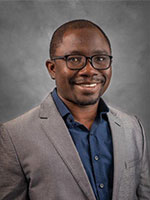 Assistant Professor
Anderson Hall, Room 465
HDeedat@wcupa.edu
610-436-2884
Social Work (2019)
B.A. University of Ghana; M.S.W. Widener University; MPH Temple University; Ph.D Widener University
Dr. Hadih Deedat holds a Bachelor of Arts (Honors) degree in Sociology from the University of Ghana, Legon-Accra, Ghana. He also holds two master's degrees: Master of Public Health (MPH) from Temple University, Philadelphia, Pennsylvania and Master of Social Work (MSW) from Widener University, Chester, Pennsylvania. Dr. Deedat continued his education at Widener University where he earned his doctoral degree in Social Work.
Prior to becoming a part of the Undergraduate Social Work faculty at West Chester University 2019, Dr. Deedat taught various social work courses at both Widener University and Delaware State University between 2014 and 2018. From 2012 to 2019, Dr. Deedat was a full-time Clinical Screener/Family Crisis Therapist with the Office of Evidence-Based Practice (State of Delaware), working with children and youth in foster care to promote and advocate for better outcomes for that vulnerable population. Dr. Deedat's passion for working to advance the overall wellbeing of children and youth in foster care saw him conduct his doctoral dissertation on foster care placement instability, utilizing perspectives of foster care alumni who had had professional experience working with children and youth in foster care.
Dr. Deedat has a deep-seated research interest in child welfare. His other major research interests include immigrant and refugee welfare, evidence-based social work practice, and public health and social work interdisciplinary approaches. Dr. Deedat's research interests are driven by his strong belief that more scholarship, advocacy, and social justice efforts are needed to address inequality, discrimination, and other forms of social injustices that continue to plague our society.
Back to top of page.