Travis Sky Ingersoll, MED, MSW, PhD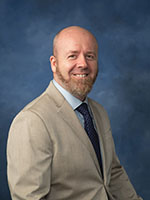 Associate Professor
Anderson Hall Room, 473
tingersoll@wcupa.edu
610-436-2767

Social Work (2011)

B.A., SUNY, Buffalo; M.Ed., Widener University; M.S.W., Widener University; PhD Widener University
Having earned a Doctorate of Philosophy in Human Sexuality, and two Master's degrees, one in Social Work and the other in Education, Travis weaves important sexual health information into every class he teaches, from social policy to race relations. His course "Sexuality Concepts for Social Workers" focuses on training social work students to be competent and comfortable addressing the sexual health concerns of their clients.
Outside of his role as a college professor, Dr. Ingersoll has guest-lectured and facilitated interactive workshops in person and through distance-learning technologies, domestically and internationally, on a variety of topics. His presentations have educated groups about how to teach sensitive topics, cross-cultural sexuality, sexual health, sexuality throughout the lifespan, sexually transmitted infections, sexual orientation, intimate relationship violence, media's role in the promotion of sexual violence among men, trans-realities and the gender spectrum, how to utilize the Fear of Intimacy Scale in clinical settings, clinical social work skills, and recognizing the myriad opportunities for producing sexuality scholarship.
Dr. Ingersoll's research publications include international studies examining the fear of intimacy, sexual anxiety, gender roles, and implementing clinical interventions to residents of elderly communities. Current research projects include the role of male involvement in domestic violence agencies, and collaborative cross-cultural projects focusing on investigating connections between body image, eating disorders, fear of intimacy and sexual anxiety among U.S. and Chinese college students. In addition to teaching and research, Travis has developed anti-homophobia curriculum and sexuality policies for retirement communities and assisted-living facilities.
View Dr. Ingersoll's Profile on Research Gate
Visit Dr. Ingersoll's Professional Webpage
Back to top of page.