CHRISTOPHER


HANNING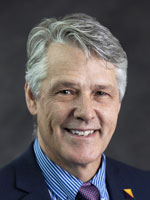 DEAN, WELLS SCHOOL OF MUSIC
PROFESSOR, PERCUSSION
110D, Swope Music Building
610-430-4178
CHanning@wcupa.edu

Education
D.M.A., University of Colorado Boulder
M.M., The University of Akron
B.M.E., University of South Florida
B.M., University of South Florida

Thoughts on SOM
West Chester University Wells School of Music offers a combination of some of the best qualities necessary for a student to succeed in music school. We have an excellent faculty that maintains active performing schedules, we are in proximity to a major metropolitan area where some of the best musical performances in the world can be heard on a regular basis, and starting in 2007 we will be moving into an outstanding new facility. We have graduates that are teaching in public schools, universities, and many that have very active performing careers. Our percussion students have won national competitions such as MTNA and have placed in the final round of the Percussive Arts Society solo competition.

Mission at SOM
My goal as a college professor is to provide students with an educational experience that will rival any program in the nation. Developing student's musicianship, professionalism, and self confidence as a player and teacher have always been the focus of my teaching.

Curriculum Vitae
Dr. Chris Hanning is a Professor of Percussion at West Chester University, a recording artist for NFL Films, and performs with the Peter Paulsen Quintet, the Bach Festival Orchestra of Bethlehem, and Philadelphia's premier contemporary music ensemble Relâche. His performing has taken him throughout Europe and the United States with engagements at such prestigious venues as Carnegie Hall, the Kennedy Center, and Royal Albert Hall in London. In 2006 he released Island Grooves, an instructional drum set DVD that received a 4 1/2 out of 5 star rating from Modern Drummer magazine. Chris has recorded several CD's with Relâche, the Bach Choir of Bethlehem, David Liebman and the Manhattan Saxophone Quartet, and a new release with the Peter Paulsen Quintet titled Goes Without Saying. Chris performed on numerous recordings for NFL Films over the past twelve years including several Emmy Award Winning projects. You can hear Chris every year when the Lombardi Trophy music is played during the Super Bowl. He is currently co-writing music with long time NFL Films composer and producer Tom Hedden. You can check out some of his music at firstcom music. Chris is an artist/clinician for Vic Firth, Pearl/Adams, Remo, Zildjian, and Panyard and has presented clinics at Universities, conventions, and percussion festivals across the United States and abroad. Chris also chairs the Percussive Arts Society Contest and Audition Procedure Committee and serves on the PAS Board of Directors.

Videos and Audio
I wrote this drum set solo for a CD I recorded with the MPH Trio in 2001. I based the solo loosely on a solo I saw Bill Stewart play at a Percussive Arts Society Convention, hence the title "Stewart-ship". This performance is from a recent faculty Recital at West Chester University.
Back to top of page.