Devin Arne, DMA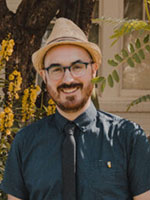 Assistant Professor
341, Swope Music Building
DArne@wcupa.edu
www.devinarne.com
Education
DMA, Arizona State University
MM, McGill University
BM, Peabody Institute of The Johns Hopkins University
Curriculum Vitae
Devin Arne, DMA, is a composer, producer, educator, and guitarist. He has established a reputation as a versatile musician with a portfolio that spans multiple genres, including jazz, electronic, indie-rock, and film scores. At WCU, he teaches Studio Composition courses, including Studio Production, Film and Media Scoring, and Scoring for Video Games.
Devin has composed music for international ad campaigns, television programs, web-based media, and mobile applications. Through strong relationships with music houses in New York and Los Angeles, including Duotone Audio, Fall on Your Sword, and Amber Music, he has produced hundreds of bespoke compositions for brands including Google, Mercedes-Benz, Nestle, Samsung, Tide, and DraftKings. He has extensive experience in the world of music licensing for television, with music featured in top music libraries, including ScoreKeepers, Lift Music (UK), Getty Images, and LabHits. His television and streaming credits include Keeping Up With The Kardashians, Total Divas, The Real World, Catalyst (PBS), and Grand Benders (MTV Canada).
As a producer and mix-engineer, Devin has worked with alternative rap artist Dylan Owen across a five-album portfolio that has inspired millions of fans. As a guitarist, he has performed and recorded with Dawn Robinson (En Vogue), Sam Rivers, Gary Thomas, Ingrid Jensen, Michael Formanek, and The Phoenix Symphony. He has released two albums under his own name, Songs of The North & There and Back, a suite for Jazz Quintet, and Kaleidoscope, a cross-genre collaboration that features musicians from the U.S., Trinidad, and Brazil.
As a researcher, his work explores the intersections of music, ecology, sound spatialization, and the use of technology as a bridge between domains. Recent projects include Unheard Voices (2021), an immersive sound installation driven by environmental sensor data, and Roadside Apparition/Refracted Oasis (2020), a collaboration with painter Laura Spaulding Best, commissioned by the Scottsdale Museum of Contemporary Art.
Videos and Audio
Additional videos, audio, and installations can be found on www.devinarne.com