GLORIA


GALANTE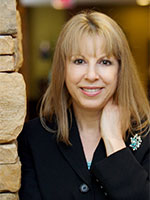 INSTRUCTOR, HARP
340, Swope Music Building
GGalante@wcupa.edu
www.gloragalante.com
CMP Certified Music Practitioner
Education
M.M., VanderCook College of Music
B.S., West Chester University of Pennsylvania
Curriculum Vitae
Versatile and dynamic as a performer, deeply committed to teaching community and using the harp as an instrument of healing, Gloria Galante is inspiring.
Who first inspired Gloria Galante to play Jazz was her piano teacher, Miss Alice Shinn (from the University of the Arts). She would teach Gloria to play classical pieces from Bach, Mozart, Beethoven. She introduced her to Fats Waller, Pine Top Smith and Scott Joplin. She loved plying those pieces. Miss Shinn bargained with her to first learn a classical piece to perfection then was awarded with a jazz piece Gloria signed up for the high school Symphonic Orchestra two weeks before classes began. The teacher stated the available instruments were the Trombone, Tuba, or Harp. Gloria started harp lessons at Cardinal Dougherty High School. The school owned a beautiful Lyon and Healy Harp Style 17 in natural wood with ornate carvings and a gold decal on the soundboard. Gloria transferred her jazz pieces on the harp when time permitted.
Gloria signed up for the jazz jam at the Blue Note on Limekiln Pike in 1986 hosted by Bob Perkins. When it was her turn to play with the band consisting of Tyrone Brown, Bass, Jim Miller, Drums, Duke Wilson ,Percussion and Jeannie Brooks, vocals it turned into a whole set. Gloria joined Tyrone Browns group called Kusangala and her jazz career began in Philadelphia.
Gloria has toured worldwide performing Jazz, Classical, Latin, African ad Pop genres. She has appeared with such great stars as Frank Sinatra, Diana Ross, Jose Feliciano, Luther Vandross, Odean Pope, Tyrone Brown, Cecil Bridgewater, Warren Oree, Monnette Sudler to name a few.
Gloria and Oden Pope were paired together as a musical duo in 1998 by Alice Coltrane. The CD entitled Pope - Galante has received much airplay and recognition in the jazz world. They performed a concert celebrating John Coltrane's Birthday Concert in Philadelphia. They completed a Pew Grant Project awarded to Odean Pope. This year long project of original compositions composed by Odean Pope called Sounds of the Circle.
Gloria Galante has performed and participated in masterclasses and concerts at the Philadelphia Clef Club.
Gloria is the Principal Harpist of the Moog Endorsed Group the Divine Hand Ensemble.
Equally dedicated and experienced as an educator and performing artist, Professor Galante is the founder of the Wells School of Music Harp Program at West Chester University, PA . The harp program is in it's thirty third year.
Gloria is the director of the WCU Harp Ensemble and Community Harp Ensemble, Musicopia ensemble leader, and serves on the prestigious PA Council of the Arts as a teaching artist.
She is focused on fundraising for the WCU Harp Endowment fund that she began in 2017.
Once the goal is achieved the program will benefit promising students to receive College education and harp performing opportunities as a Harp performance major.
Professor Galante and Maestra Suzzette Ortiz took the Community Harp Ensemble including WCU students to perform in Vienna, Austria for nine days. This was life changing education for the students learning about Mozart at his home in Austria, as well as Alpine Harp music which was Mozart's inspiration.
Gloria has thirty recordings and compositions. She produced two therapeutic cds raising funds for the Cancer Cure research. She is a CMP, certified music practitioner and advisor for MHTP.org Music for Healing and Transition program. Ms. Galante has a music ministry as she mentors students on each level, as well as performs in hospitals and hospice. (Gloria plays for Crossroads Hospice in the Gift of the Day Program) .
Gloria has made history as the first CMP to provide therapeutic music In Vitro Fertilization patients to reduce anxiety during transfers at the Abington reproductive medicine.com/ toll center at Abington Hospital. She participated in a two year medical study completed by Dr. Barmat in 2001. Ms. Gloria Galante is currently providing therapeutic live harp music for IVF Patients during their embryo transfers.
Videos and Audio
Back to top of page.