JOHN


SWANA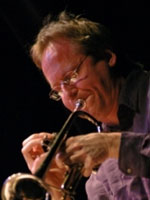 TRUMPET
312, Swope Music Building
JSwana@wcupa.edu
Curriculum Vitae
John Swana was born in Norristown, Pennsylvania, a suburb of Philadelphia, and began studying trumpet at the age of 11. He was drawn to jazz at the age of 17 after hearing Dizzy Gillespie, and the interest developed into a passion while he was in collage, where he began transcribing the solos of Freddie Hubbard, Clifford Brown, Miles Davis, and Tom Harrell. Swana has performed and/or toured with the Mingus Big Band, and the Dave Holland Big Band, and has also played with well known jazz names such as Don Patterson, Shirley Scott, Mickey Roker, Stanley Turrentine, Harold Mabern, Cecil Payne, Johnny Coles, Ralph Peterson, Charles Fambrough, Bobby Watson, Craig Handy, Chris Potter, Stephen Scott, Tim Warfield, Eric Alexander, Sam Newsome, Brad Mehldau,Vincent Herring, Uri Caine, Tim Armacost, Peter Leitch, Peter Bernstein, Mark Turner, Jon Gordon, Donny McCaslin, Ravi Coltrane, Ralph Bowen, Greg Hutchinson, Ari Hoenig, Seamus Blake, and Robin Eubanks. He has also been heard with Freddie Hubbard, Phil Woods, Ronnie Cuber, Eddie "Lockjaw" Davis, Clark Terry, Frank Foster, John Faddis, Slide Hampton, J.J. Johnson, Bob Minzer, and Charlie Persip.
John can be heard on recordings with: Benny Golson, Grover Washington Jr., Chris Potter, Ralph Bowen, Donny McCaslin, John Patitucci, Eric Alexander, Charles Fambrough, Craig Handy, Tito Puente, Bill O'Connell, Lenny White, Ricky Sabastian, Eric Harland, Greg Hutchinson, Marlon Simon, Ed Simon, Dave Valentin, Cafe', Art Webb, Adam Holtzman, Ron Blake, Peter Bernstein, Carl Allen, Mulgrew Miller, Benny Green, Kenny Barron, Tim Warfield, Lewis Nash, Clarence Penn, Kevin Hays, Chris McBride, Uri Caine, Peter Leitch, Marvin "Smitty" Smith, Ralph Peterson, Bobby Zankel, and Tom Harrell.
Back to top of page.