PETER


PAULSEN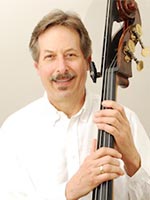 ASSISTANT PROFESSOR, DOUBLE BASS / JAZZ STUDIES
248, Swope Music Building
PPaulsen@wcupa.edu
PaulsenMusic.com

Education
M.M., Temple University
B.M., West Chester University of Pennsylvania

Thoughts on SOM
I believe that the ongoing diligence, interaction and collaboration of the School of Music faculty has a contagious and inspiring effect on the student body here at WCU and, in turn, the many opportunities created for the students to hone their craft and creatively express themselves places a renewed importance on our responsibility to keep growing as performers, teachers, mentors and citizens.

Mission at SOM
The double bass studio at WCU is committed to each student's development and growth toward reaching their fullest potential of performance success. My goals as a teacher are building character and a reliable work ethic in order to gain command of the instrument in any musical situation, to ultimately nurture a keen sense of personal assessment making each student a better teacher of themselves.

Curriculum Vitae
Mr. Paulsen's first CD release, Peter Paulsen Quintet "Three-Stranded Cord", on R&L Records, received international press and national airplay, as well as the second Peter Paulsen Trio release, "Tri-cycle". He has also recorded with the MPH Trio, "Curves", on GPC Recordings, and the Jeff Baumeister Quartet, "Useful Music", on Wahbo Records. His most recent release, Peter Paulsen "Change of Scenery" Sextet also on Wahbo Records, has gained international recognition in both radio and printed media, with an emphasis on a confident and original compositional voice.
Mr. Paulsen is very committed to the education of young, up-coming musicians and has participated in master classes with François Rabbath, Hal Robinson, Mark Morton, and Donald Palma and as clinician with Jimmy Knepper, George Young, Clark Terry, Dennis DiBlasio, Valery Ponamerov, Dave Liebman, Gunnar Mossblad and Ed Soph. He is a member of the International Society of Bassists and an active composer of works for his instrument, receiving three prestigious Pennsylvania Council on the Arts composition grants and a composer residency at the Banff Centre for the Arts in Alberta, Canada. The PEW Charitable Trust recognized Peter Paulsen with a 2007 PEW Fellowship in composition and he can be seen in the acclaimed documentary, "12 Short Films of the 2007 PEW Fellows." Mr. Paulsen and his wife, mezzo-soprano Charlotte Paulsen continue to commission, premier, and record many new works for the unusual combination of double bass and voice.
Videos and Audio
I received a Pew Fellowships in the Arts award in 2007. These grants of $60,000 were awarded to Philadelphia-area artists working in a wide variety of performing, visual, and literary disciplines.
My fascination with the use, and misuse, of this phrase, Written In Stone," despite, or in spite, of the seemingly unrealistic and irrelevant distance we are from its ancient origins. "He gave Moses two tablets of the Testimony, tablets of stone, written with the fingers of God." Ex. 31:18
Peter Paulsen - bass/composer/arranger, Chris Hanning - drums/percussion, Tim Brey - piano, Chris Bacas - saxophones, John Swana - EVI
Back to top of page.