ROBERT


SKONICZIN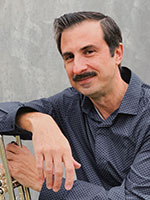 INSTRUCTOR, TRUMPET
228, Swope Music Building
RSkoniczin@wcupa.edu
Education
M.M., Manhattan School of Music
B.M., Gettysburg College

Curriculum Vitae
Robert Skoniczin's career has combined a love for teaching music at all levels as well as performing in a variety of settings, including classical, commercial, jazz, and touring Broadway shows. Rob has backed various star attractions such as Aretha Franklin, Martina McBride, Anne Murray, Pete Fountain, Marvin Hamlisch, Mannheim Steamroller, and The Who with Roger Daltrey & Pete Townshend. He can be heard on several recordings including Manhattan Transfer's DVD The Christmas Concert, Reanimations and Shadowcatcher with the West Chester University Wind Ensemble, The Quest for Adventure with Tromba Mundi, American Anthems with the Gramercy Brass Orchestra, and numerous spots for NFL Films.
Rob's teaching style has been described as positive, energetic, and comprehensive; finding creative ways to address difficulties that students are having is a hallmark of his pedagogy. His students have regularly performed in solo and trumpet ensemble divisions at the National Trumpet Competition, International Trumpet Guild, and taken top prize in the inaugural Ginger Turner Small Ensemble Division at the International Women's Brass Conference.
Chamber music is an important part of any college student's learning, and performing and coaching small ensembles is one of Rob's passions. Listening to chamber groups such as Philip Jones, Canadian Brass, and Empire Brass has influenced his musicality and love of this genre. Having performed in numerous brass quintets throughout his career, Rob now performs with Kryos Brass, the West Chester University faculty brass quintet.
Rob maintains a busy schedule with professional ensembles in the region: he has performed with Delaware Symphony, Allentown Symphony, and Reading Symphony; Opera Philadelphia and OperaDelaware; Pennsylvania Ballet; Chamber Orchestra of Philadelphia; Ocean City Pops; and Liberty Wind Symphony. In December 2019, Rob will make his debut as principal trumpet with the Bach Choir Festival Orchestra of Bethlehem, PA. This exciting opportunity will showcase his piccolo trumpet virtuosity on arguably some of the most famous and challenging trumpet works in the repertoire.
In October 2015, Rob made his Carnegie Hall debut performing with Tromba Mundi, where three new works for trumpet ensemble were unveiled: Birds of Paradise by Erik Morales, Swashbuckler by Andrés Soto and The Quest for Adventure by Bertrand Moren.
Rob has worked closely with the International Trumpet Guild since co-hosting the Conference in 2014 and now serves as the Conference Volunteer Coordinator. In addition to his duties at the Wells School of Music at West Chester University of Pennsylvania, Rob is Associate Conductor with Bravo Brass, the Philadelphia Youth Orchestra's Brass Ensemble program. This ensemble is designed to further the musicianship of advanced middle school and high school brass and percussion players of the greater Delaware Valley region.
Rob's principal teachers have included Vince Penzarella of the New York Philharmonic and Christopher Tranchitella of the Kennedy Center Opera House Orchestra. He is a member of the National Band Association, the International Trumpet Guild, and Phi Beta Kappa. Rob is a performing artist for S.E. Shires trumpets.
Back to top of page.