Adam


Silverman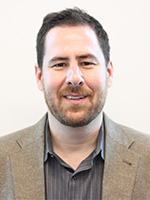 Chair, Department of Music Theory, History, and Composition
Professor, Music Theory and Composition
330, Swope Music Building
(610) 436-3157
ASilverman@wcupa.edu
AdamBSilverman.com
Education
D.M.A., Yale School of Music
M.M.A., Yale School of Music
M.M., Yale School of Music
B (Music), University of Miami School of Music, Vienna Musikhochschule
Thoughts on SOM
I've found the West Chester University Wells School of Music to be a fertile environment for students to build musical skills, grow as individuals and be inspired by each other and by the faculty. I have been consistently impressed by my students, by my colleagues in the Theory & Composition department, and by the faculty of the Wells School of Music, all of whom show great dedication to learning from each other and embracing music as an ever-engrossing passion.
Mission at SOM
I teach composition, music theory, aural skills, orchestration and popular music songwriting. In teaching aural skills and music theory, I have the privilege of encountering almost every student in the Wells School of Music in my classroom. Whether a student is majoring in education, performance, theory and composition, or is pursuing a minor in music, my goal is to build an understanding of what makes good music great, and to deepen a student's connection with the principles that guide music making and listening. In the process, I hope to broaden students' horizons, embracing styles from throughout history and across the globe and using them to discover common musical trends as well as unique differences.
Curriculum Vitae
Adam Silverman teaches music composition, theory, songwriting and orchestration as Professor of Music Theory and Composition at West Chester University and works actively creating new compositions that are included on concerts worldwide. Information about his compositions, recordings, and public performances can be found at AdamBSilverman.com.
Silverman's most frequently performed compositions have been for opera, percussion ensemble, and cello (including many compositions for accompanied and unaccompanied solo cello, and both original works and arrangements for cello choirs).
As a youth in Atlanta, GA, Silverman began his musical training as a pianist and taught himself to play guitar. By age 16, he was writing original songs and performing in local bars where, were he not in the band, he would have been refused entry as an underage patron. At college, he began to study classical music and composed his first works, studying at Tulane University, the University of Miami, The Vienna Musikhochshule, and earning graduate degrees at The Yale School of Music. He continued his training as a composer through participation at summer music festivals including Tanglewood, where he received the prestigious ASCAP-Leonard Bernstein Fellowship.
As a special interest in the late 1990s, Silverman studied "microtonal just intonation" (music based on "pure harmonic" scales as opposed to the "tempered" scales used in most music) with pioneer composer Ben Johnston. Though Johnston had retired from teaching and moved to Rocky Mount, NC, Silverman arranged to study with Johnston at his home, learning the theory behind microtonal music and how to compose works in just intonation. While Silverman only composed a handful of such works, study with Johnston provided a formative influence that would resonate for years to come.
Silverman began his career in the early '00s as a founder of the Minimum Security Composers Collective, a group of four composers who combined the creation of new works with an entrepreneurial spirit that included concert production and promotion. With Minimum Security, Silverman collaborated with leading ensembles including Eighth Blackbird, for whom they composed an evening-length production that was featured on tour across America, including performances at Carnegie Hall, Lincoln Center's Alice Tully Hall, and other prominent venues. At this time, Silverman also began composing music for many of America's leading ensembles: Sturm for The Amelia Piano Trio, Kicking and Screaming for The Albany Symphony Chamber Orchestra, Ricochet for Strata and the Piccolo Spoleto Festival, Corrie Q's Jigs and Reels (String Quartet No. 3) for the Corigliano Quartet, and many others.
Inspired by an exhibit on the children of the Holocaust at the Yad V'Shem Museum in Jerusalem, Silverman composed the opera Korczak's Orphans in collaboration with poet Susan Gubernat. This grand opera for a large cast of soloists, orchestra and children's choir, centers around the tragic heroism of a Jewish author and orphanage director in World War II Poland. It has been performed in staged and concert-workshops by New York City Opera, Real Time Opera, The Atlanta Young Singers, and The Brooklyn Opera Company. Silverman's next opera, Griselda e il Marchese di Saluzzo is an Italian-language operatic "short" based on a tale from Boccaccio's The Decameron; scored for just seven musicians, four soloists and a small women's choir, it was composed for International Opera Theater, and was performed in 2010 and 2011 in Philadelphia, in Pieve, Italy, and in Saluzzo, Italy - the town in which Griselda was set in Boccaccio's 14th century novella.
Silverman's dramatic music extends beyond opera. In collaboration with In Parenthesis Theater, he composed music for Le Colonel des Zouaves (2005), a Dadaist theater piece by French dramatist Olivier Cadiot, set for solo actor and men's chorus. Again in collaboration with In Parenthesis Theater, Silverman composed music for Little Fiel (2012), a stop-motion animated film that brings to life sculptures by Mozambican artist Fiel dos Santos while telling a story based on Santos' own family in Mozambique's civil war.
In 2008, New Focus Recordings released a CD devoted to Silverman's compositions, and individual compositions of his have also appeared on CDs by the Prism Saxophone Quartet, cellist Amy Sue Barston, The Florida State University Percussion Ensemble, and others, all of which are widely available online.
Back to top of page.