JACOB


COOPER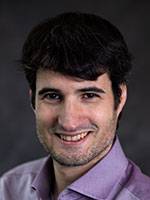 Associate
PROFESSOR
337, Swope Music Building
JCooper@wcupa.edu
www.jacobcoopermusic.com
610-436-2908
Education
D.M.A., Composition, Yale School of Music
B.A., Music and Geology, Amherst College
Currucilum Vitae
Jacob Cooper's compositions and multimedia works have garnered recognition throughout North America and Europe, appearing at Carnegie Hall, Lincoln Center, Walt Disney Hall, the Kennedy Center, the Kimmel Center, SoundBox (San Francisco), the MATA Festival (New York), the Wordless Music concert series at the Miller Theater (New York), Operadagen Rotterdam, and the Choregie Festival (Slovenia). Performers of Jacob's music include Eighth Blackbird, the JACK Quartet, the Calder Quartet, Brooklyn Rider, Ensemble Connect (formerly ACJW), the Carmina Slovenica choir, the Minnesota Orchestra, the Albany Symphony, and NOW Ensemble. His song cycle Silver Threads, written for soprano Mellissa Hughes and electronic track, was released by Nonesuch Records in 2014 to critical acclaim. Recent projects include a commission for cellist Ashley Bathgate, a Chamber Music America commission for Mobius Percussion, and a commission from the Los Angeles Philharmonic Association with vocalist Theo Bleckmann as soloist.
Lauded as "richly talented" (The New York Times), "a maverick electronic song composer" (The New Yorker), and a "pioneer who has pulled out of the post-minimalist orbit" (San Francisco Classical Voice), Jacob has earned a Charles Ives Scholarship from the American Academy of Arts and Letters, a Morton Gould award from ASCAP, a Music Alive grant from New Music USA, and was the winner of the 2011 Carlsbad Music Festival competition. He has held residences at the Ucross Foundation, the Kimmel Center's SEI Innovation Studio, the Banff Centre, and the Atlantic Center for the Arts, and he has attended the Bang on a Can Summer Institute and the Minnesota Orchestra Composer Institute. Jacob is also the least well-dressed of the six composers in the collective Sleeping Giant, whose members are "unquestionably some of the most talented and engaging young composers around" (The New Yorker).
Timberbrit, Jacob's "gutsy opera" (Time Out NY) about a fictional reunion between Britney Spears and Justin Timberlake, has been featured on NPR's All Things Considered and in The Believer's annual music issue. The opera ran at the Incubator Arts Project in New York and was presented in London by Carmen Elektra / Opera Underground. The Philadelphia Inquirer recently described his chamber piece Cast as "the kind of meditative concentration one associates with Olivier Messiaen at his best, but with the composer's own kind of undulating layers and vivid strokes of color."
Jacob works in visual media as well, and his video Alla stagion dei fior was highlighted as a "rumbling, jittering threnody" (The New York Times), while Commencer une autre mort, which "skillfully toys with the audience's expectations and experience of opera" (Capital NY), was shortlisted for the inaugural YouTube / Guggenheim Biennial of Creative Video.
Also dedicated to teaching and scholarship, Jacob is an Assistant Professor of Music at West Chester University and has previously served on the faculty at Amherst College. He holds a doctorate in composition from the Yale School of Music.
Videos and Audio
Back to top of page.