MARK


RIMPLE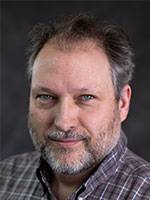 PROFESSOR, MUSIC THEORY AND COMPOSITION
331, Swope Music Building
MRimple@wcupa.edu
610-436-2916
Education
D.M.A., Temple University
M.M., Temple University
B.M.C., University of the Arts


Thoughts on SOM
It is a real pleasure to work with my distinguished faculty colleagues and to interact with wonderful and engaged students. The creative energy in the SOM is infectious, and my collaboration with faculty and students is a constant source of inspiration. As co-author of our new music theory textbook with Dr. Alexander Rozin, I have been enjoying seeing my students expand their study of music to encompass a much wider world of music than before, and I am constantly surprised and impressed with their accomplishments and applications of the ideas we explore in the classroom.
Mission at SOM
My contribution to the culture of SOM resides mainly in the opposite historical ends of Western music: music of the Medieval, Renaissance, and Baroque periods, and music of the early 20th through the early 21st century. I feel it is my duty as a specialist in music of the distant past to champion Medieval, Renaissance, and Baroque music on campus in many environments, from the theory classroom to the concert hall. This interest has been a major part of my contribution to our new theory text. In addition, I have been fortunate to teach in the SOM Oxford program (in 2005 and 2008), where my focus has been the philosophical side of music in relation to the plays of William Shakespeare, and the literary/philosophical world of the lute song. As director of the Collegium Musicum, I try to find music that both educates the student about larger historical trends and styles of music and that reveals a bit of the hidden treasures of our past. As a composer, I strive to incorporate my first-hand contact with this music into my own compositional voice, which is an attempt to integrate many seemingly disparate historical musical realities. I try to bring ancient philosophical and theoretical concepts to bear on music that has a contemporary edge, while infusing my own, modern musical style with the sensual beauty found in the sound world of pre-Classic music. This bi-directional sense of history helps me to communicate with our composition majors in courses such as music theory seminars, composition lessons, and counterpoint, where I hope to teach them how to integrate the musical past into their compositional work.
Curriculum Vitae
Hailed "among the first rank of US Lutenists," (Lute Society of America) Mark Rimple has appeared with Trefoil, The Folger Consort, The Newberry Consort, Severall Friends, Piffaro, the Renaissance Band, The King's Noyse, Mélomanie, Tempesta di Mare, Network for New Music, and Seven Times Salt. His playing on CD Tre Liuti, a recent solo CD of virtuosic Italian lute music for three different instruments, was praised by Early Music America "transparent…" and "extraordinary sensitive". He can be heard singing and playing stringed instruments on recordings with Trefoil, The Newberry Consort, Seven Times Salt, Cygnus Ensemble, and other ensembles.
As a scholar, Mark has investigated the impact of musical theories found in Boethius and his ancient sources throughout the history of Western Music from late medieval to early modern music. Articles include "Hearing Boethius in the Music and Rhetoric of Guillaume de Machaut," Carmina Philosophiae 19 (2010), 25 – 48 and "The Persistence of Boethian Harmony" in A Companion to Boethius in The Middle Ages, Noel Howard Kaylor and Philip Edward Phillips, eds. (Leiden: Brill Academic Publishers, March 2012).
Mark's compositions often incorporate early instruments and techniques, and have been presented by the 21st Century Consort (at the Smithsonian American), Parnassus, Network for New Music, Mélomanie, ChoralArts Philadelphia and The League of Composers/ISCM Chamber Players. His solo CD, January: Songs and Chamber Music of Mark Rimple (2016) includes works for archlute, countertenor, viola da gamba and harpsichord; his Mystic Fragments for Baroque violin and archlute on Rebecca Harris' CD A String Mysterious, which Mark co-produced. Future collaborations include works for Parthenia, counter(induction and Cygnus Ensemble.
Dr. Rimple is Professor in the Department of Music Theory, History and Composition at the Wells School of Music, and leads the Collegium Musicum.
Videos and Audio
Back to top of page.