Rachel


Colwell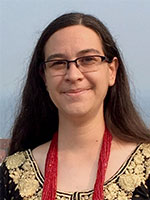 Assistant
Professor
232, Swope Music Building
(610) 436-2940
RColwell@wcupa.edu
Education
Ph.D. and M.A., University of California, Berkeley
B.A., Oberlin College
Curriculum Vitae
Rachel Colwell is an ethnomusicologist specializing in Tunisian Andalusi art music (mā'lūf) and listening practices. She received her Doctorate in Music at the University of California, Berkeley and her Bachelor of Arts degree in Musical Studies and Anthropology at Oberlin College. In her ethnographic fieldwork, she investigates the connections to geographic places and movements, emplaced sonic histories, and affective orientations perpetuated and challenged through contemporary Tunisian listening. Her work advocates for increased attention toward questions of access and participation in post-authoritarian contexts and for multisensory and emplaced knowledge as key sites of continued anti-colonial resistance and scholarship.
Rachel is a violinist and vocalist with training in Western classical art music, Arab art music, American and British Isles fiddling traditions, Javanese and Balinese gamelan, and West Sumatran talempong.
Selected Publications
"Settled & Unsettled Listening: Café Culture, Colonialism, and Multisensory Politics in Tunisian-Andalusī Music." 2022. Journal of North African Studies.
Review of Richard Jankowsky's book, "Ambient Sufism, Ritual Niches and the Social Work of Musical Form." 2021. Asian Music.
Review of Claire Belhassine's film, "The Man Behind the Microphone." 2017. Ethnomusicology.
Invited Talks and Workshops
"Mālūf Listening Acts: Contemporary Andalusī-Tunisian Musical Politics," Bowdoin College, Brunswick, Maine (2022).
"Acoustics, Aesthetics, and the Somewhat-Audible Pasts of Tunisian Ma'lūf," the Institute for Sacred Music, Yale University, New Haven, Connecticut (2021).
"Unsettling Colonial Listening: The Politics of Multisensory Experience in Tunisian-Andalusi Music," Music Department Colloquium Series at Wesleyan University, Middletown, Connecticut (2021).
"Listening Acts: Musical Politics in Post-Revolution Tunisia," Department of Music, Grinnell College, Iowa (2019).
"Fundamentals of Arab Music: Middle East," and "Fundamentals of Arab Music: North Africa," Invited workshops in "Music and Identity in the Contemporary Arab World," Middlebury College, Vermont (2019).
Conferences Organized
"Sensoria of al-Andalus & the Western Mediterranean," multidisciplinary conference, April 1-2, University of California, Santa Cruz (2022).
"American Institute for Maghrib Studies Graduate Student Dissertation Workshop," October 25-6, University of California, Santa Cruz (2019).
Conference Panels Organized
"Disability Justice and Techniques of Inclusion in the Ethnomusicology Classroom." Panel: "Exploring Inclusive Teaching Methodologies in SWANA Studies," Middle Eastern Studies Association, Montreal, Canada (2023).
"The Sonic Nexus: Language in MENA Music Teaching." Panel: "Teaching Language with Music and Music with Language: Pedagogical Innovations in Ethnomusicology and Arabic Language Instruction," Middle Eastern Studies Association, Denver (2022).
"Nimshiū Ziyār: Sensory Celebration of Lag Ba'Omer in Djerba, Tunisia." Panel: "Multisensory Experience, Past and Present: Jewish Life through the Senses," Association for Jewish Studies, Chicago (2021).
"Musicking and Listening in Andalusian Air: Ma'lūf, Sociality, and Place in Tunisia." Panel: "Andalusian Music and the Mediterranean," International Council for Traditional Music, Mediterranean Music Studies Group, Essaouria, Morocco (2018).
"Public Participation and Voice of Heritage in Post-2011 Revolution Tunisia." Panel: "Ideologies of Voice, Sound, and Landscape in the Maghrib," American Anthropological Association, Washington, DC, (2017).
"Youth Ma'lūf Listening Acts, Ethics, and Coping in Post-Revolutionary Tunisia." Society for Arab Music Research sponsored panel: "Affects and Politics of Youth Music and Listening in the Arab Mediterranean," Society for Ethnomusicology, Denver (2017).
Back to top of page.