Fitness Programs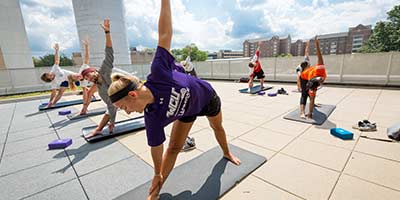 Group fitness classes are a great way to get and stay active while having the support of a community working towards the same goal! Our group fitness programs offer a variety of classes for all fitness levels, skill, and ability. With our nationally certified instructors you'll be sure to get a great workout no matter what you're after! If you're looking for an energizing cardio-packed workout try Zumba, Cycle, and more! Not into cardio? Maybe one of focused strength and endurance based classes are right for you like Full Body Fushion, Intense 30, or Barre. Don't forget to stretch! With any workout regimen, yoga is a great addition to help you relax and recharge while still working hard!
Find our full schedule and sign up for all our classes on IMLeagues!
Fall 2023
Beginning August 28th - December 15th
No-Show Policy
With the continuation of the reservation system, we will be implementing a no-show policy to prevent open spaces in classes that have waiting lists. Please make sure to remove yourself from the class on IMLeagues to avoid any of the following situations.
After your first no-show you will receive a warning email.
After 3 no-show's you will be restricted from registering for group fitness classes for one week.
After 5 no-show's you will be restricted from registering for group fitness classes for one month.
RAM Group Fitness Classes
A fun and empowering class set to today's hottest music. Classes begin with a warm up focusing on postural strength and alignment, followed by a series of upper body exercises using light weights. The ballet barre is used to sculpt the lower body, abs and for flexibility training.
LES MILLS+ BODYPUMP™ is a full-body barbell workout for anyone looking to get lean, toned and fit – fast. Using light to moderate free weights and a barbell with lots of repetition (800-1000 reps), BODYPUMP gives you a total body workout. Feel the burn with scientifically proven moves and techniques, highly trained instructors and great music – helping you achieve much more than on your own! You'll leave the workout feeling challenged and motivated, ready to come back for more.
A cardio and strength training class based on a variety of resistance and sprint sets on bicycles. Learn combinations of climbs, jumps, and sprints to get your heart rate soaring! Cycling is a great cardiovascular challenge to anyone's weekly workouts. It is a moderate to intense cycling class filled with a wide selection of upbeat music!
Take this class for a fun cardio workout to learn some self defense along with working your core, flexibility, and strength. Along with technique oriented drilling of which will help you learn the ins and outs of kickboxing.
LES MILLS GRIT™ is a 30-minute high-intensity interval training (HIIT) workout, developed by experts to deliver transformative results. Featuring short, intense bursts of effort followed by periods of recovery, the scientifically structured intervals allow you push your body into your max effort training zone – and that's where the results happen.
Using timed intervals and a variety of weights and bodyweight movements, you are sure to be sweating by the end of this class. This class provides a total body workout that will leave you stronger each time you attend.
This class is ideal for anyone new to yoga and interested in its benefits that will help you build strength, increase flexibility, and find focus. This class combines the energy and movement of a Yoga class with the core stabilizing and regenerative dynamics of Pilates. It is moderately paced so you will learn the fundamental Yoga postures and principles that create a successful and effective mind/body practice.
Ditch your traditional workout and come join the party! Zumba is a Latin-inspired, dance-fitness class that incorporates Latin and international music and dance movements, which create a dynamic, exciting, and effective fitness system! (no dance experience required!)
Step into a BODYCOMBAT workout, and you'll punch and kick your way to fitness, burning up to 570 calories** along the way. This high-energy martial-arts inspired workout is totally non-contact and there are no complex moves to master. A LES MILLS™ instructor will challenge you to up the intensity and motivate you to make the most of every round. You'll release stress, have a blast and feel like a champ.
This class is perfect for when you are in a rush and want to get a workout in. This class is focused on strengthening your abdominal muscles by performing various exercises that work the core and its surrounding muscles. The class uses bodyweight and weighted movements to give the core a good burn. This easy to follow along class is great for learning exercises and perfecting form."
Power Up is designed to give you a full-body workout that will leave you feeling strong, energized, and accomplished. This class incorporates a variety of exercises, including the use of weights and body weight movements. With a focus on strength training and HIIT (high-intensity interval training), you will be guided through each exercise, pushing you to your limits and challenging your body.
*** All Group Fitness classes can be modified to any participant's fitness level!
Back to top of page.