Roommates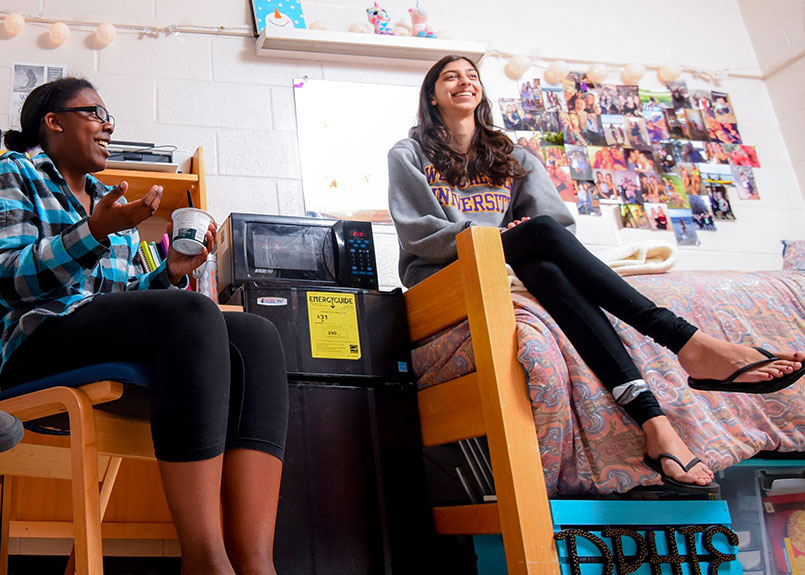 ROOMIES
Nervous about sharing a room with someone you just met? You're not alone!
Excited to share a room and get to know someone you just met? You're not alone either!
No matter how you feel about sharing a room with someone new, your roommate experience will teach you something about yourself, relationships and community. The important thing to remember is that you and your roommate are both experiencing all that college has to offer for the first time--together!
Search for a roommate & roommate matching
WCU-Managed and USH offer roommate search and roommate matching programs that allow students to fill out a bio, answer a questionnaire, and connect with other students.
For first-year students, roommate selection takes place between May and July each year. Your WCU email will be packed with all the info you need to know about roommate selection, important due dates, and even a helpful move-in checklist!
For WCU Managed residences: Roommate matching (My College Roomie) is accessible in myWCU
(in myWCU navigate to Personal Information -> myHousing -> Applications & Forms)
For USH residences: Roommate matching is accessible in the USH Resident Portal
Already have a roommate in mind?
You can request to live with another student on your Housing Application (yes--even as a first year student!) or elect your preferred roommate(s) through your resident portal:
For WCU Managed residences: Roommate selection (My College Roomie) is accessible in myWCU
(in myWCU navigate to Personal Information -> myHousing -> Applications & Forms)
For USH residences: Roommate selection is accessible in the USH Resident Portal