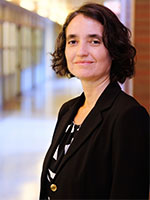 Iliana Pagán-Teitelbaum
Associate Professor of Languages
Ph.D., Harvard University
M.A., Harvard University
B.A., University of Puerto Rico
Mitchell Hall 127

610-436-3216

Book an appointment here.
Dr. Pagán
Dr. Iliana Pagán-Teitelbaum is an Associate Professor of Languages and Cultures at West Chester University of Pennsylvania. She obtained a BA in Latin American Studies at the University of Puerto Rico and a PhD in Romance Languages and Literatures from Harvard University. She was a Mellon Postdoctoral Fellow in Caribbean Studies at the University of Pennsylvania. She is the Graduate Coordinator for the MA in Languages and Cultures, and she teaches courses on Latin American film and Spanish language. Her research focuses on cultural representations of inequality and violence in the Americas, as well as the critical discourse analysis of media representations of indigenous peoples from the Andes. As a filmmaker, she directed Twin Tongues: Learning English in América, a nonfiction film about the politics of bilingualism and identity in the Hispanic community of Philadelphia (in post-production).
Research Interests
Ethics and Aesthetics of Violence and Inequality
Contemporary Latin American Film and Literature
Cinema Studies
Cultural Studies
Indigenous Studies
Caribbean Studies
Courses Taught at WCU
ESP 309 Latin America on Film
FYE 100F First-Year Experience: Culture and Communication
LNC 368 Comparative Cultural Studies
LNC 503 Cultural Studies
SPA 101-102 Beginner Spanish I & II
SPA 201-202 Intermediate Spanish I & II
SPA 302 Advanced Spanish Grammar and Conversation II
SPA 313 América Latina en el Cine
SPA 456/556 Latin American Short Story
SPA 456/556 Narratives of Exclusion in Latin American Cinema
SPA 558 Violence in Latin American Cinema
SPA 559 Adaptation: Literature to Film in Latin America
YES 301 Seminar in Youth-led Media and Inquiry
Recent Publications
Book Chapters
"Distorsión en los Andes: violencia cultural y exclusión en el cine contemporáneo."

Cine andino: estudios y testimonios.

Ed. Julio Noriega and Javier Julián Morales Mena. Galesburg, IL and Lima: Knox College P-UNMSM-Pakarina Ediciones, 2015.
"Depiction or Erasure? Violence and Trauma in Contemporary Peruvian Film."

Interrogating Trauma: Collective Suffering in Global Arts and Media

.

Ed. Mick Broderick and Antonio Traverso. London: Routledge, 2011. 161-177.
Journal Articles
"Espejo eurocéntrico: por una estética de la equidad en el discurso audiovisual sobre la mujer indígena y la tecnología."

Ojo que piensa. Revista de cine iberoamericano

14 (2017): 20-43.
"Desestabilizar la violencia: exclusión y resistencia narrativa en Brasil y República Dominicana"

Abehache

7: 2 (2014): 178-191.
"Sueños malditos: diáspora y globalización violentas en la narrativa dominicana"

Sargasso: A Journal of Caribbean Literature, Language, and Culture.

Special Issue: Agency and Intervention in Caribbean Contexts.

I & II (2013-2014).
"Neofavela filmada: violencia y resistencia en la ciudad partida de

Cidade de Deus"

Badebec: Revista del Centro de Estudios de Teoría y Crítica Literaria

4 (Mar. 2013): 116-146.
"Glamour in the Andes: Indigenous Women in Peruvian Cinema"

Latin American and Caribbean Ethnic Studies Journal

7.1 (Mar. 2012): 71-93.
"Depiction or Erasure? Violence and Trauma in Contemporary Peruvian Film"

Continuum: Journal of Media and Cultural Studies

24.1 (Feb. 2010): 159-175.
"El glamour en los Andes: la representación de la mujer indígena migrante en el cine peruano"

Revista Chilena de Antropología Visual12.2 (2008): 1-30; revised version reprinted in

Crónicas Urbanas

14 (2009): 159-174.
"Arsenales de odio: violencia invisible en 'O Cobrador' de Rubem Fonseca"

El hablador

4 (2004): 76-81.
Global Hispanic Film Festival at WCU
Founding director.
The Global Hispanic Film Festival at WCU presents contemporary films about the realities of the Hispanic world in Latin America, Spain, North Africa & Latinos/as in the US every Fall during Hispanic Heritage Month. Free and open to the public! All films are subtitled.

#cineWCU
For more information:

https://www.facebook.com/cinewcu
Back to top of page.