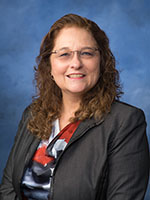 Laura E. Fiorenza
Assistant Professor (1994)
B.A., West Chester University
M.Ed., West Chester University
Ed.D., Grand Canyon University
Dr. Fiorenza has taught in a variety of elementary, middle, and high schools. She is certified in Elementary Education and in Elementary and Secondary Counseling. She was a guidance counselor in elementary and middle level schools. Her higher education teaching experience includes several online and traditional universities.
Dr. Fiorenza has been employed at West Chester University since 1994. She primarily teaches child development coursework, early field classes, and supervises student teachers. Throughout the years, she has taught a variety of courses in the College of Education and Social Work.
Dr. Fiorenza enjoys the enthusiasm of pre-service teachers and feels that teaching is a reciprocal process where the instructor is also the student in the classroom. Her areas of interest include school bullying and school climate. An additional area of interest includes: child development with a focus on linking developmental issues with environmental issues to understand how these influence students ' behaviors in the classroom. An extension of these interests is the identification and exploration of personality styles to design positive classroom environments and for differentiating instruction and assessments in the classroom.
Back to top of page.