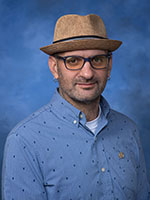 Curry Malott
Associate Professor
M. A., New Mexico State University
Ph.D., New Mexico State University
Biography
From New Mexico State University in Las Cruces, NM, Currie Stephenson Malott received a Master's Degree in Sociology in 1998 and a PhD in Curriculum and Instruction in 2004.
Before coming to West Chester University, Dr. Malott published and taught in the foundations of education and social studies at Brooklyn College/CUNY, D'Youville College in Buffalo, NY, and Queens College/CUNY. During this time, Dr. Malott has been interested primarily in advancing theoretical and practical application of critical pedagogy through the foundations of education and beyond.
Dr. Malott is also the founder and series editor of Critical Constructions: Studies on Education and Society (Information Age Publishing).
Area of Instruction
Dr. Malott is the newest faculty member in Educational Foundations & Policy Studies.
Publications and Professional Activities
Some of Dr. Malott's most recent books include:
Policy and Research in Education: A Critical Pedagogy for Educational Leadership (Peter Lang, 2010)
Critical Pedagogy in the Twenty-First Century: A New Generation of Scholars (Information Age, 2011) co-edited with Bradley Portfolio
Critical Pedagogy and Cognition: An Introduction to a Post-Formal Educational Psychology (Springer, 2011)
Teaching Joe L. Kincheloe (Peter Lang, 2011) co-edited with Rochelle Brock and Leila Villaverde.
Back to top of page.