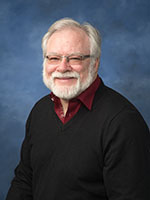 David L. Bolton
Associate Professor
M.S., Andrews University
Ph.D., Florida State University
Biography
Dr. David Bolton received his Ph.D. in Research and Testing from Florida State University and his M.S. in Research and Statistical Methodology from Andrews University. Prior to graduate school, Dr. Bolton spent six years in Germany where he graduated from Carl-Friedrich-von-Siemens Schule and Seminar Marienhoehe (He speaks fluent German). Before coming to West Chester University, David worked with the State of Florida as a psychometrician where he developed licensure examinations.
His area of expertise is instrumental development and research design as well as statistical analysis of causal models.
David enjoys traveling with his wife, Barbara, and his two children, Christopher and Megan.
Area of Instruction
Dr. Bolton teaches the following courses in the College of Education:
Undergraduate Assessment
Graduate Research Methods
Publications and Professional Activities
Dr. Bolton's primary area of research is assessing attitudes toward and use of educational technology in education, with the primary focus upon mobile technologies. He is also interested in studying data literacy and in helping teachers analyze and use data. A further interest is upon international education and research. Dr Bolton has presented at international conferences and periodically teaches at Friedensau University, near Burg, Germany.
Dr. Bolton is the co-founder, with Dr. Randall Rieger, of the West Chester Statistics Institute. This organization provides research and statistics help to WCU faculty and staff as well as outside organizations.
Back to top of page.