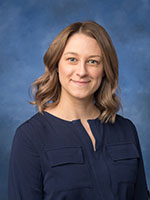 Dana Morrison
Associate Professor
B.A., West Chester University of Pennsylvania
M.A., Villanova University
Ph.D., University of Delaware
BIOGRAPHY
Dana Morrison joined the faculty at West Chester University in the Spring of 2018. She holds a Ph.D. in Education from the University of Delaware, specializing in Sociocultural and Community-Based Approaches. Dr. Morrison also holds a B.A. in Sociology from West Chester University of Pennsylvania and an M.A. in Liberal Studies from Villanova University.
Before joining the Department as Assistant Professor, Dana worked as an adjunct instructor at West Chester University for five years.
AREAS OF INSTRUCTION
Dr. Morrison teaches courses in the Foundations of Education both at the undergraduate and graduate levels. Principle specializations include: Sociology, philosophy and history of education as well as qualitative research methods in education.
PUBLICATIONS AND PROFESSIONAL ACTIVITIES
Dr. Morrison's research focuses on educational grassroots organizing, teacher unionism, and critical practices in teacher education.
Back to top of page.