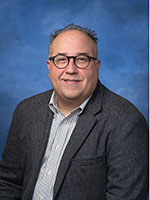 John Elmore
Department Chair
Full Professor
B.A., Kansas Wesleyan University
B.S., Kansas Wesleyan University
M.S., Kansas State University
Ph.D., Kansas State University
Biography
Dr. Elmore is originally from Kansas where he earned his Ph.D. in Education from Kansas State University in 2000 with an emphasis in Critical Pedagogy and Gender Equity in Education. Dr. Elmore also holds a B.A. degree in History Education (1995), and a B. S. degree in Psychology (1996) from Kansas Wesleyan University and an M. S. in Foundations and Secondary Education (1997), a graduate certificate in Women's Studies (1999) from Kansas State University.
Dr. Elmore spent five years as an Associate Professor and Director of Graduate Studies at Medaille College in Buffalo, NY before joining the faculty at West Chester.
Area of Instruction
Dr. Elmore's principal specializations are in:
Critical Pedagogy
Democratic Education
Atheism
Non-Authoritarian Pedagogies
He primarily teaches courses in:
Critical Pedagogy
Politics of Education
History of Education
Philosophy of Education
Publications and Professional Activities
Dr. Elmore has investigated and written on multiple topics relating to the field of education, most notably the corporate model of higher education and the impact of employing authoritarian education in a democratic society.
His most recent publication is entitled Teaching Marx: The Socialist Challenge
His forthcoming book is entitled Authoritarian Education in a Democratic Society
Back to top of page.