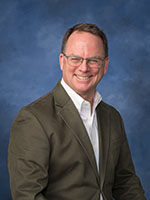 Paul A. Morgan
Full Professor
B.A., University of Illinois
Ph.D., Columbia University
Biography
Dr. Paul Morgan is the founder and director WCU's certificate programs in Education for Sustainability (EFS) and from 2011 to 2014 served as the University's Sustainability Coordinator. Dr. Morgan chairs the board of ACEER (Amazon Center for Environmental Education and Research) and is a frequent presenter at conferences and workshops related to sustainability and education.
Area of Instruction
Dr. Morgan's teachings are in the fields of:
Sustainability
Foundations of Education
Honors Classes
Publications and Professional Activities
Dr. Paul Morgan's campus and scholarly work are devoted to exploring the historical precedents, philosophical rational, and practical means of reorienting educational institutions toward sustainability.
Back to top of page.