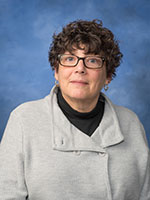 Jacqueline S. Hodes
Professor
B.A., University of Delaware
M.Ed., University of Delaware
Ed.D, University of Delaware
Biography
Dr. Jacqueline Hodes serves West Chester University as Professor in Higher Education Policy and Student Affairs (HEPSA) in the Department of Educational Leadership and Higher Education Administration. Currently, she serves as department chair and director of the HEPSA program. She teaches courses in Higher Education and Student Affairs and prepares graduate students for positions in these fields. She also teaches and advises doctoral students in the Ed.D. in Policy, Planning, and Administration. Dr. Hodes has worked at WCU since 1986, starting her career in Student Affairs as the director of alcohol and drug education. Over 26 years as an administrator, Dr. Hodes served in many different capacities including director of the wellness center and the assistant to the vice-president for student affairs. She has had experience in student conduct, orientation, new student programs, student learning outcomes assessment, fundraising and development and many other areas in student affairs. Most notably, Dr. Hodes served for 18 years as the inaugural coordinator for LGBTQIA services.
Area of Instruction
Dr. Hodes teaches:
Introduction to Higher Education Policy and Student Affairs
Advising and Supporting in Higher Education Policy and Student Affairs
College Student Identity Development
Transformative Leadership in Higher Education and Student Affairs
Resource Management in Higher Education
Program Planning and Implementation
Introduction to Doctoral Studies
Publications and Professional Activities
Dr. Hodes' scholarship is varied and includes both writing and presentations on understanding the professional identity development of student affairs practitioners, graduate student success, creating change via collaboration in higher education, civility on college campuses and strengths-based leadership and practice.
Dr. Hodes serves on several committees at West Chester University including the Faculty Senate, Graduate Council, the Promotion and Tenure Workshop, and the Moonshot for Equity Advisory Board. She is a Certified Strengths (Gallup) Facilitator. She has served as the faculty advisor to the WCU Graduate Student Association and currently serves as the advisor to Chi Sigma Alpha, an honor society for graduate students in student affairs and higher education programs. Additionally, Dr. Hodes works with the Registrar's office to coordinate the First Year Student Scheduling process.
Back to top of page.