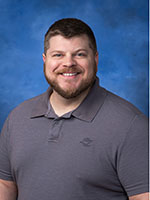 Matthew Kruger-Ross
Associate Professor
B.S., North Carolina State University
M.S., North Carolina State University
Ph.D., Simon Fraser University
Biography
Dr. Kruger-Ross earned his Ph.D. in Curriculum Theory & Implementation from Simon Fraser University (British Columbia, Canada) in 2016 with an emphasis in Philosophy of Education. Dr. Kruger-Ross also holds a B.S. degree in Middle Grades Education (2005) and an M.S. in Instructional Technology (2012) from North Carolina State University. Before joining the faculty at West Chester University, Dr. Kruger-Ross taught in the middle school at Carolina Friends School in Durham, North Carolina, and, while completing his graduate work, at North Carolina State University, Simon Fraser University, Queen's University, and Ontario Institute for Studies in Education (OISE).
Area of Instruction
Dr. Kruger-Ross principal specializations are in:
Philosophy of Education
Teacher Education
Phenomenology, Ontology and Hermeneutics
Philosophy of Technology
Educational Technology
He primarily teaches courses in:
Educational Technology
Secondary Teacher Education
Philosophy of Education
Curriculum Studies
Qualitative Research Methods
Publications and Professional Activities
Dr. Kruger-Ross serves as the Secretary-Treasurer of the Heidegger Circle of North America. For more information, see http://heidegger-circle.org.
Dr. Kruger-Ross's recent publications include:
Schmidt, P. & Kruger-Ross, M. (2022). Emerging Technologies and the Power of Literacies: Infusing Meaningful Learning in a Digital World. NCTE Principles in Practice Imprint (Cathy Fleischer, Series Editor).
Renzi, L. & Kruger-Ross, M. (2022). Situating the Self in Context: Preparing Antiracist STEM Teachers to Teach in Urban Settings. In Gilda Martinez-Alba, Afra Hersi, and Luis Javier Penton Herrera (Eds.) Antiracist Teacher Education: Theory and Practice. Association of Teacher Educators.
Schmidt, P. S. & Kruger-Ross, M. (2020). Shakespeare vs. The Homosapien Agenda: Exploring Gender in A Midsummer Night's Dream. In Victor Malo-Juvera, Paula Greathouse, and Brooke Eisenbach (Eds.), Shakespeare and Adolescent Literature: Pairings and Teaching. Rowman and Littlefield.
Kruger-Ross, M. (2019). On the Lived Experience of Truth in an Era of Education Reform: Co-responding to Anti-intellectualism. Critical Questions in Education, 10(2), 150-160.
Kruger-Ross, M. (2018). Reclaiming our assumptions at the intersection of technology, learning and equity. Texas Education Review, 6(1), 39-46. doi:10.15781/T2MK65S1N
Kruger-Ross, M. (2016). Approaching the ground of our assumptions about educational technologies. In L. Miller, D. Becker, & K. Becker (Eds.) Technology for Transformation: Perspectives of Hope in the Digital Age. Charlotte, NC: Information Age Publishing, Inc.
Kruger-Ross, M. (2015). Raising the question of Being in education by way of Heidegger's phenomenological ontology. Indo Pacific Journal of Phenomenology 15(2).
Back to top of page.