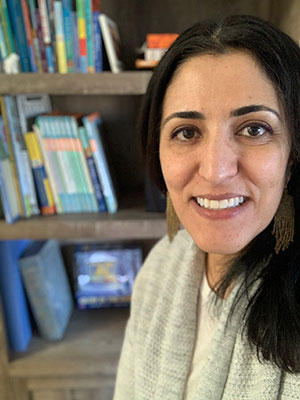 ORKIDEH MOHAJERI
Associate Professor
B.A., Carleton College
M.A., University of Minnesota
M.Ed., University of Minnesota
Ph.D., University of Minnesota
Biography
Orkideh Mohajeri holds a doctorate in Organizational Leadership, Policy and Development, with a focus on Higher Education, from the University of Minnesota. Her dissertation considers how racial discourses extant in U.S. society co-construct subjectivity for liminally situated groups of undergraduate and graduate students.
Dr. Mohajeri spent 12 years in academic affairs and student services at the University of Minnesota, and one year at Centro Universitario del Bienestar Rural outside of Cali, Colombia, before joining the faculty at West Chester.
Areas of Instruction
Dr. Mohajeri teaches graduate courses in Educational Leadership and Higher Education Administration, particularly courses affiliated with the Master's of Science in Higher Education Policy & Student Affairs and the Doctorate of Education. She currently advises doctoral student research.
Dr. Mohajeri's principal specializations are in:
Higher Education & Student Affairs
Critical Whiteness Studies
Critical Discourse Analysis and Critical Narrative Analysis
Human Resource Development
She primarily teaches courses in:
College Student Identity Development
Qualitative Research Methodologies
Leadership and Administration in Higher Education
Race and Ethnicity in Higher Education
Publications and Professional Activities
Dr. Mohajeri's most recent publications and presentations include:
Mohajeri, O. (2022). The "unwanted, colored male": Gendered contested white subjectivity hailed through contemporary racial discourse. In M. P. Johnston-Guerrero, L. D. Combs & V. K. Malaney Brown (Eds.), Preparing for higher education's mixed race future: Why multiraciality matters. Palgrave Macmillan. View here.
Mohajeri, O. (2021). "Fly on the wall" moments reveal whiteness-at-work for contested white graduate students. International Journal of Qualitative Studies in Education. View here.
Mohajeri, O., & Lou, H. C. (2021). Mixed and multiracial student organizations on campus: The necessity of weaving together art and critique. In M. P. Johnston-Guerrero & C. L. Wijeyesinghe (Eds.), Multiracial experiences in higher education: Contesting knowledge, honoring voice, and innovating practice. Stylus.
Mohajeri, O., Snyder, S., & Rodriguez, F. (2020). Navigating college choice through female peer-to-peer capital: The case of Somali-American college-seeking women. Journal of Access, Retention, and Inclusion in Higher Education, 3, 48-59.
---
---
Back to top of page.