Jeanean Mohr, MSW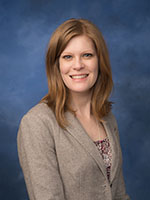 Assistant Director of Recruitment, Admissions, and Enrollment
Anderson Hall, Room 431
610-436-2096
JMohr@wcupa.edu
Degrees:
BA, Social Work: Shippensburg University of Pennsylvania
MSW, Social Administration: Temple University
Certificate, Nonprofit Executive Leadership, Bryn Mawr College
Certificate, Higher Education Policy and Student Affairs, West Chester University
About Jeanean
My passion for social work ignited early in college when I took my first sociology class at Millersville University. Inspired by my desire to combat social and economic inequities, I quickly changed majors from communications to social work and subsequently spent more than 15 years working in the nonprofit sector. Prior to joining West Chester University, I worked as Executive Director of Breakthrough Philadelphia, a wonderful organization dedicated to preparing students for success in college and introducing college students to teaching careers. My experience also includes tackling issues of poverty, homelessness, and child sexual abuse.
I earned a master's degree in Social Work from Temple University, and as a first-generation college graduate, am intimately familiar with the value of higher education. I am thrilled to transfer my passion for education and social justice to the university setting in my role as Program Coordinator for Social Work in the Department of Graduate Social Work.
Jeanean's role
Jeanean facilitates the admissions process for the department and plays a key role in advising students on course selection and enrollment during the summer months.
Back to top of page.