Melissa Dziedzic, MSW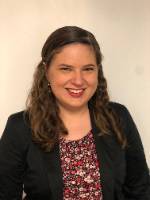 Director of Field Education, West Chester Campus
Anderson Hall, Room 407
610-436-3567
MDziedzic@wcupa.edu
Curriculum Vitae
Degrees:
BA: Gwynedd Mercy University
MSW: Widener University
About Melissa
During my time at Gwynedd Mercy University, I was very involved in community service and alternative spring break mission trips serving children, families, and adults in Philadelphia and Greater Philadelphia area, the Bronx, NY, and Southwest Baltimore, MD. Having the opportunity to sit with incredibly resilient people and hear their stories and life experiences inspired me to enter the field of social work.
For nearly 10 years, I have worked in child welfare, family and peer support programs, school-based social work, crisis management and intervention, and program development, management, and leadership. As a social work professional, I was very fortunate to have incredible field placement experiences. In return, I felt that it was my time to "pay it forward" by offering guidance and support as a field instructor to BSW and MSW students at the agency where I worked.
It is an absolute honor to be able to fulfill my life purpose and mission by working with the next generation of social workers at West Chester University!
Melissa's Role
Melissa meets with MSW students at the West Chester Campus and matches them in their generalist and specialized field placements. Melissa is a continued support to the students throughout the year, as students learn and grow as a future social worker!
---
Read more Faculty and Staff Profiles
---
Back to top of page.