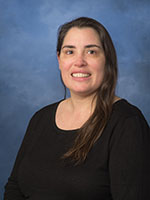 Tara S. Guerriero
Professor
Email Tara Guerriero

Tara Guerriero attended Northwestern University where she received her Ph.D. in Learning Disabilities, with a concentration in Cognitive Neuroscience. She also received her Master of Arts degree in Learning Disabilities and her Bachelor of Science degree in Communication Sciences and Disorders with a concentration in Learning Disabilities and a minor in Psychology from Northwestern University. Dr. Guerriero was certified as a Special Education Teacher in the state of Pennsylvania, as well as a Learning Behavior Specialist in Learning Disabilities in the state of Illinois. She was both a clinician and supervisor in a learning clinic at Northwestern University, where she provided remediation for children with learning disabilities and conducted psycho-educational evaluations of children and adults for the purpose of identifying and diagnosing learning disabilities. Dr. Guerriero's research interests include assessment in special education, inclusive practices associated with special education, and both assessment and teaching within the areas of mathematics and reading in the field of learning disabilities.
Back to top of page.