Graduate Certificate in Health Care Management
This 100% online graduate certificate in Health Care Management is designed to meet career advancement needs of professionals and those seeking to transition into the health care industry. These courses can also be applied to the Masters in Public Health (MPH) Program. Students in Community Health, Environmental Health, Integrated Medicine or Nutrition or may wish to complete this certificate as a complement to their current degree.
MPH Program Track Coordinator
This program will benefit physicians, nurses, clinicians, managers, and professional staff in the health care industry. In addition, it will benefit those in managed care and not-for-profit organizations, government, consulting firms, and the pharmaceutical industry, among others. A health care management certificate of completion will be issued when the requirements of the program have been fulfilled.
HEA 513 Legal Aspects of Health Care
This course is an analysis of the basic legal concepts and major legal issues that are most important to and directly affect the health services manager. Topics include legal frameworks of health organizations and health practitioners, administrative policy, contracts, consent, patient's rights, legal death, insurance, liability, and research.
HEA 514 Approaches to Health Care Delivery
This course is designed to provide students with an overview of the structure, systems, and policies of health care delivery in the United States. The goal of the course is to increase students' knowledge and their ability to analyze and address health care issues from both a management and a policy perspective.
HEA 516 Health Care Management
This course provides students with a fundamental understanding of the principles of management and managerial functions as a framework for organizing knowledge and practices in the health care setting. This is accomplished through the relationship of each of the functions of management that include planning, development, budgeting, and management and evaluation concepts to health care organization operations. Practical health care management examples, applications, issues, and exercises requiring critical thinking and effective writing will be emphasized.
HEA 613 Advocacy and Quality of Health Care Services
This course is an introduction to patient advocacy for graduate students in the health professions. Topics include ethics, health care financing and policy, health advocacy for special populations, and key strategies for system change.
HEA 614 Health Care Technology and Information Management
This course will provide future health care managers with the knowledge and skills they need to work effectively with information systems technology. Topics covered in this course include emerging technology, information systems, the impact of the internet on health care organizations, and system standards, among others.
HEA 616 Strategic Leadership in Health Care
Healthcare industry requires visionary, creative and transformational leaders who can navigate effectively through a dynamic and complex landscape. This course will provide the foundational concepts and principles necessary for exercising strategic leadership.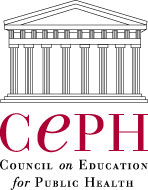 CEPH accreditation serves multiple purposes for different constituents. In general, specialized accreditation attests to the quality of an educational program that prepares for entry into a recognized profession.
For the public, accreditation promotes the health, safety and welfare of society by assuring competent public health professionals.
For prospective students and their parents, accreditation serves a consumer protection purpose. It provides assurance that the school or program has been evaluated and has met accepted standards established by and with the profession.
For prospective employers, it provides assurance that the curriculum covers essential skills and knowledge needed for today's jobs.
For graduates, it promotes professional mobility and enhances employment opportunities in positions that base eligibility upon graduation from an accredited school or program.
For public health workers, it involves practitioners in the establishment of standards and assures that educational requirements reflect the current training needs of the profession.
For the profession, it advances the field by promoting standards of practice and advocating rigorous preparation.
For the federal government and other public funding agencies, it serves as a basis for determining eligibility for federally funded programs and student financial aid.
For foundations and other private funding sources, it represents a highly desirable indicator of a program's quality and viability.
For the university, it provides a reliable basis for inter- and intra-institutional cooperative practices, including admissions and transfer of credit.
For the faculty and administrators, it promotes ongoing self-evaluation and continuous improvement and provides an effective system for accountability.
For the school or program, accreditation enhances its national reputation and represents peer recognition.
Back to top of page.