REFERRAL INFORMATION
Referral Information (9/1/2023)
We are currently accepting referrals for assessments and psychological testing as well as psychotherapy.
When contacting us, please leave the following information in your email or voicemail message:
Caller Name
Potential Client Name
Callback number
Best time to reach you
We will return your call during CMHS business hours
About Us
Payment for Services: Payment is due at the time service is provided. We accept cash, check or credit card payments.
Reminders:
Please provide 24 hours' notice for cancellations. There is a $10 charge for no-shows or late cancellations (less than 24-hours' notice).
Children may not be left unattended in the clinic so please make childcare arrangements during your scheduled sessions.
Services
Newsletters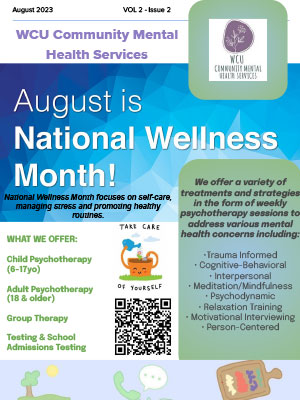 CMHS Videos
CMHS in The News
Applying to the WCU PsyD Program
To WCU Community Mental Health Services clients: CMHS is staffed by WCU students enrolled in the Clinical Psychology doctoral program. These students are under the supervision of WCU Clinical Psychology faculty members. If you receive services at CMHS and are interested in pursuing a graduate degree in clinical psychology, you should be aware that PsyD faculty are unable to consider your application for the WCU PsyD Program. The potential for multiple relationships arising is inevitable and in accordance with APA Ethics Code (STANDARD 3.05 MULTIPLE RELATIONSHIPS; https://www.apa.org/ethics/code/) to which our graduate students and faculty adhere, we are unable to consider your application to the WCU PsyD Program. This policy applies to WCU students, WCU alumni, or community members who currently are receiving, or within the last five years have received, psychological services (psychotherapy or testing) at CMHS.
Follow CMHS on Instagram!
Newsletters
Payment Information
Forms
No Surprises Act – Good Faith Estimate Notice
CMHS is located at 125 West Rosedale Avenue on the 8th floor of Wayne Hall on the WCU main campus in West Chester, PA. Free parking is available in the lot in front of the building.
Hours of Operation
Clinic/Holiday closings for 2023:
Semester Break: 5/15/23 - 5/29/23
Memorial Day: 5/29/23
Juneteenth: 6/19/23
July 4th week: 7/3/23 - 7/6/23
Semester Break: 8/21/23 - 8/24/23
Labor Day: 9/4/23
Fall Break: 10/16/23 - 10/17/23
Thanksgiving Break: 11/22/23 - 11/23/23
Holiday Break: 12/18/23 - 1/1/24
Clinic Hours:
Monday: 12pm- 7pm
Tuesday: 12pm - 7pm
Wednesday: 8am - 12pm
Thursday: 8am - 4pm
To schedule an appointment or for more information please call our main office at 610-436-2510.
Back to top of page.