International Travel
Norway
West Chester University is the only school in the world to submit a nomination to the Nobel Peace Prize committee, thanks to a remarkable WCU Honors - Norway connection.
Several years ago, our Director, Dr. Kevin Dean, made contact with members of the Nobel Peace Prize committee. Dr. Dean explained how leadership and community change serve as the foundations for the Honors curriculum. As the ultimate symbol of leadership and positive change, the Nobel Peace Prize represents an important lens of study for our Honors students. Thus, Dr. Dean asked if there were any room for a partnership between our two entities, and to our amazement, the committee welcomed us warmly. In 2015, Dr. Dean, along with colleagues Dr. Charles Hardy and Dr. Denise Polk organized an exploratory trip to Oslo, Norway for two students from each of the 14 PASSHE institutions. The trip aimed to have Norway "function as a laboratory for PASSHE Honors students to gain insights to a rich cultural history, scenic grandeur, and critical lessons in leadership and environmental stewardship." Since the 2015 inaugural trip, Dr. Dean has taken two smaller delegations of WCU Honors students in December 2018 and December 2019. On these trips, students have had a change to venture throughout Oslo, visit the Nobel Peace Institute, shake hands with past laureates, and attend vital conference meetings held by Nobel Committee members.
Back home in WCU, the Honors College created the Nobel Peace Leadership Series as a way to promote peace, engage students in lessons of leadership, and motivate youth to be leaders and active agents for change. Students have had a chance to learn a thorough history of past Nobel laureates and compile a formal submission to the Nobel Peace Prize Committee for consideration. The Nobel Peace Leadership Series recently won the Organizational Program of the Year at the WCU Office of Student Leadership and Involvement Awards Ceremony in May 2019. Not only has WCU gone to Norway, but Norway has come to WCU. Two of the five members of the Nobel Peace Prize Committee, Asle Toje and Henrik Syse, have come to West Chester's campus and given open lectures about their experiences on the committee.
Equally as exciting, one Honors student, landed an internship personally working with the members of the Nobel Peace Prize Committee. There have only been three such interns in the history of the Nobel Peace Prize! Michael Moriarty, a former Honors graduate student, had the opportunity to live in Oslo for three months in Fall 2019 and work directly under the five members of the committee. Michael assisted the program manager in facilitating the Nobel Peace Research Seminars, assisted with the 2019 Nobel Peace Forum (where last year's keynote speaker was 2007 Laureate Al Gore), and assisted in the execution of the Nobel Peace Prize events. One of his jobs was to pick up the Nobel Prize from the Norway mint -- Michael was the first person to touch the Nobel Peace Prize for 2019!
South Africa
An amazing partnership blossomed in summer 2001 between WCU Honors and the people of South Africa. Led by a team of educators, including then WCU President Madeleine Wing Adler, 27 students from around the state participated in a two-week international program that conducted oral histories of current South African college students, men, and women once on the forefront of change from Apartheid to Democracy. Since then, the Honors College has forged a strong relationship between the country and WCU.
Through the Honors College's largest philanthropic event, "Aid to South Africa," thousands of dollars have been raised over the past decade. This money goes to three beneficiaries: H.E.L.P. ministries, Nkosi's Haven, and Mosaic, all which help to combat starvation, poverty, and the AIDS epidemic in South Africa. Every 2 years, the Honors College sends a delegation of students to South Africa to participate in a variety of community engagement, research, and service activities to enrich student understanding of international relationship building and to benefit the people of South Africa.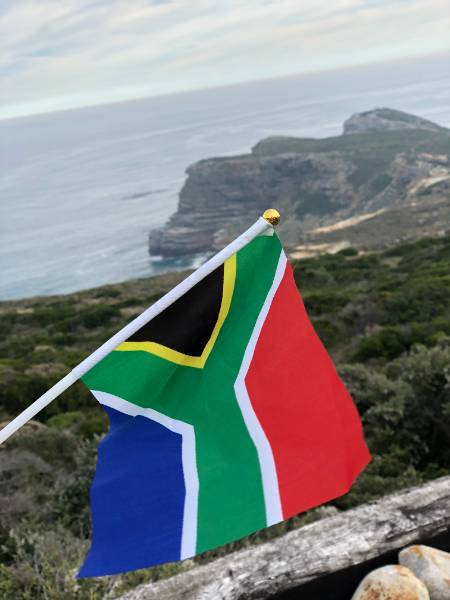 Back to top of page.