Sustainability
Who We Are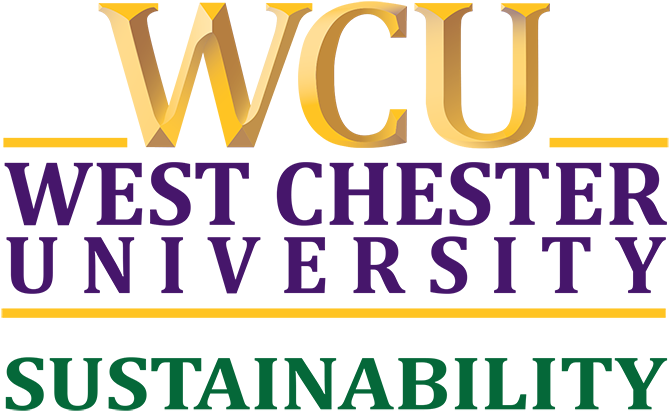 To live and work sustainably means to perpetuate the health and welfare of people, economies, and the environment. Sustainability is about ensuring that all people - today and into the future - can live in healthy communities and participate in productive local economies without sacrificing environmental integrity. It's a simple yet powerful concept that ties together human happiness and well-being with the quality and health of environmental systems. Thus, sustainability issues incorporate such wide-ranging topics as biodiversity loss, climate change, social justice, and more.
West Chester University seeks to be a leader in local, regional, and global sustainability efforts. This website documents the university's efforts in sustainability and provides numerous resources for individuals, organizations, and communities.
Join us as we carry out the single most critical task of the 21st century!
News and Upcoming Events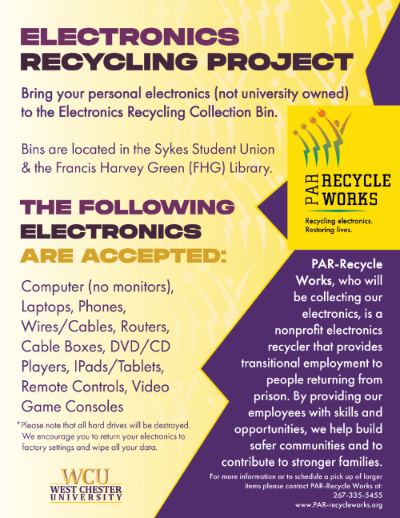 Electronics Recycling Project
West Chester University has recently partnered with PAR-Recycle Works, a nonprofit electronics recycler that provides transitional employment to people returning from prison, to offer faculty, staff, and students a personal electronics recycling opportunity! Bring your computers, phones, cables, routers, tablets, even those old dvd/cd players to a collection location in either the Sykes Student Union or the Francis Harvey Green (FHG) Library. See the list of acceptable items on the flyer and read more about the program in the WCU Libraries blog post linked below. And remember, these are personal items only. No university owned devices please!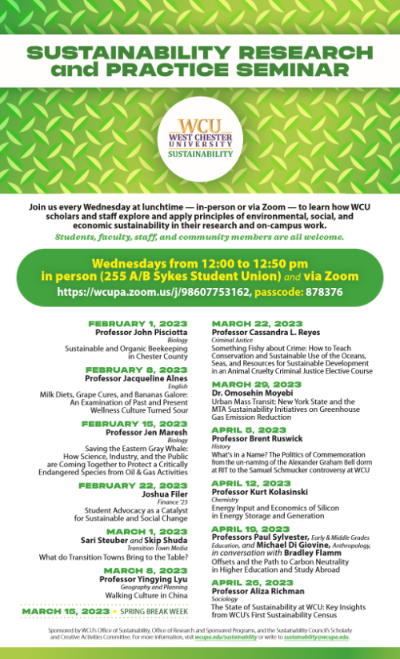 Spring 2023 Sustainability Research and Practice Seminar

Another exciting round of presentations is getting under way as the Sustainability Research and Practice Seminar returns for the Spring 2023 semester! Below you'll find a full lineup of speakers and topics bound to entice, from a wide range of disciplines. These weekly seminars are hosted on Wednesdays during the lunch hour, 12pm to 12:50pm, making it easy to stop in for a casual and fascinating break. The Sustainability Research and Practice Seminar is hosted in Sykes 255 A/B and on Zoom, link below.
Zoom Link:
https://wcupa.zoom.us/j/98607753162?pwd=dm4wbDFnMjFNMW5ncWo1T2diajZLQT09
Meeting ID: 986 0775 3162
Passcode: 878376
Speaker Schedule
2/1/23
Professor John Pisciotta, Biology - Sustainable and Organic Beekeeping in Chester County View Recording

2/8/23
Professor Jacqueline Alnes, English - Milk Diets, Grape Cures, and Bananas Galore: An Examination of Past and Present Wellness Culture Turned Sour View Recording

2/15/23
Professor Jen Maresh, Biology - Saving the Eastern Gray Whale: How Science, Industry, and the Public are Coming Together to Protect a Critically Endangered Species from Oil & Gas Activities View Recording

2/22/23
Joshua Filer, Finance '23 - Student Advocacy as a Catalyst for Sustainable and Social Change View Recording

3/1/23
Sari Steuber and Skip Shuda, Transition Town Media - What do Transition Towns Bring to the Table? View Recording

3/8/23
Professor Yingying Lyu, Geography and Planning - Walking Culture in China
3/15/23
SPRING BREAK

3/22/23
Professor Cassandra L. Reyes, Criminal Justice - Something Fishy about Crime: How to Teach Conservation and Sustainable Use of the Oceans, Seas, and Resources for Sustainable Development in an Animal Cruelty Criminal Justice Elective Course

3/29/23
Dr. Omosehin Moyebi, Health - Urban Mass Transit: New York State and the MTA Sustainability Initiatives on Greenhouse Gas Emission Reduction

4/5/23
Professor Brent Ruswick, History - What's in a Name? The Politics of Commemoration from the un-naming of the Alexander Graham Bell dorm at RIT to the Samuel Schmucker controversy at WCU

4/12/23
Professor Kurt Kolasinski, Chemistry - Energy Input and Economics of Silicon in Energy Storage and Generation

4/19/23
Professors Paul Sylvester, Early & Middle Grades Education, and Michael Di Giovine, Anthropology, in conversation with Bradley Flamm - Offsets and the Path to Carbon Neutrality in Higher Education and Study Abroad
4/26/23
Professor Aliza Richman, Sociology - The State of Sustainability at WCU: Key Insights from WCU's First Sustainability Census
Certifications and Memberships
Back to top of page.