Sustainability
Who We Are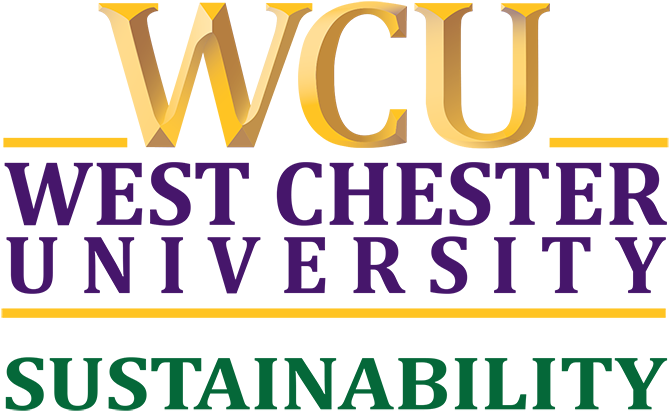 To live and work sustainably means to perpetuate the health and welfare of people, economies, and the environment. Sustainability is about ensuring that all people - today and into the future - can live in healthy communities and participate in productive local economies without sacrificing environmental integrity. It's a simple yet powerful concept that ties together human happiness and well-being with the quality and health of environmental systems. Thus, sustainability issues incorporate such wide-ranging topics as biodiversity loss, climate change, social justice, and more.
West Chester University seeks to be a leader in local, regional, and global sustainability efforts. This website documents the university's efforts in sustainability and provides numerous resources for individuals, organizations, and communities.
Join us as we carry out the single most critical task of the 21st century!
News and Upcoming Events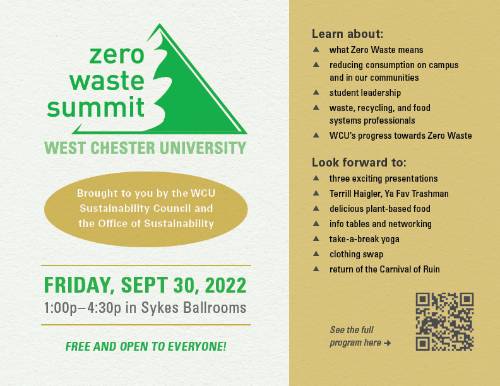 West Chester University Zero Waste Summit
On Friday, September 30th, the Office of Sustainability, together with the Sustainability Council, will host the West Chester University Zero Waste Summit! From 1pm to 4:30pm in the Sykes Ballrooms, we'll gather to learn more about zero waste and waste reduction efforts on campus from students, faculty, staff, and local professionals. We've got an exciting program put together (below) and are thrilled to announce that we'll be welcoming guest speaker, former Philadelphia Sanitation Worker and Community Advocate, Terrill Haigler - more widely known as Ya Fav Trashman @_yafavtrashman! In addition to all the fascinating sessions, there will be opportunities to drop in for yoga breaks, a clothing swap, games, and a delicious spread of vegan and vegetarian refreshments.
The Zero Waste Summit is free and open to everyone!
Ya Fav Trashman – Community Cleanup and Advocacy in Philly
PROGRAM
1:00 – 4:30 pm: Collaboration space open with info tables, plant-based refreshments, networking space, clothing swap, Q&A stations, quick yoga sessions, contests, and more!
1:00 pm: Show up, grab a bite to eat, and settle in
1:10 pm: Session 1: Student Leadership in Higher Ed Zero Waste Efforts
WCU Sustainability Peer Educator with panelists
Ramiro Murguia and Grace Bowden, Post-Landfill Action Network
Josh Filer, Veg Out
Layla Malik, WCU Student Government Association Sustainability Senator
Alden Ritchey, WCU Sustainability Peer Educator
1:50 pm: Info / Refreshments / Yoga / Networking break
2:00 pm: Session 2: "Waste or Recycling?"… and then what?
Moderated by Bradley Flamm, WCU Office of Sustainability, with panelists
Stephen McStravick, WCU Facilities Campus Services
Bob Watts, Chester County Solid Waste Authority
Al DeGennaro and Jeff Furmanchin, JP Mascaro & Sons
2:40 pm: Info / Refreshments / Yoga / Networking break
2:50 pm: Session 3: Zero Waste and Food Systems
Moderated by Ashlie Delshad, Chair of WCU's Sustainable Food Systems Committee, with panelists
Will Williams, West Chester Borough Sustainability Director
Karen Varieur, WCU Aramark Resident District Manager
Jeanie Subach, WCU Gardens Faculty Advisor
3:30 pm: Info / Refreshments / Yoga / Networking break
3:40 pm: Session 4: Terrill Haigler, Ya Fav Trashman
Community activist, former Philadelphia sanitation worker, change-maker, and Instagram phenomenon interviewed by WCU Early Education/Honors student, Jessie Hazell
4:20 pm: Book signing / Refreshments / Networking / Celebrating the end of a great afternoon of learning
Fall 2022 Sustainability Research and Practice Seminar
Another exciting round of presentations is getting under way as the Sustainability Research and Practice Seminar returns for the Fall 2022 semester! Below you'll find a full lineup of speakers and topics bound to entice, from a wide range of disciplines. These weekly seminars are hosted on Wednesdays during the lunch hour, 12pm to 12:50pm, making it easy to stop in for a casual and fascinating break. The Sustainability Research and Practice Seminar is hosted in Sykes 255 A/B and on Zoom, link below.
Zoom Link:
https://wcupa.zoom.us/j/92311407261?pwd=cEZkU2MrdXpNNTlSM3FYc1lpVDNzUT09
Meeting ID: 923 1140 7261
Passcode: 739331
Speaker Schedule
9/21/22
Professor Marc Gagne, Earth and Space Sciences - Losing the Dark: How light pollution impacts humans and the environment, and what we can do to win back the night

9/28/22
Professor Matthew Caulfield, Management - Sustaining the Old or Making Anew?: A Paradox of 'Social Sustainability' in an Era of Social Change

10/5/22
Professor Matt B. Saboe, Economics and Finance, and Tekia Huger-Burton - A Not-So-Clean Slate: A Progress Report of PA's Automated Record Sealing Law

10/12/22 in the FHG Library, Room 409
The Sustainability Council and Office of Sustainability - Updating WCU's Climate and Sustainability Action Plan (an Open House from noon to 4 pm)

10/19/22
Professor Douglas Morris, Educational Foundations & Policy Studies - Eco-rational conversion: spheres of influence into spheres of transformation - creating an ecological society

10/26/22
Professor Nia Johnson, Graduate Social Work - Decency Won't Save Us: Critical Considerations for Occupational Sustainability

11/2/21
Professor Roger Gatchet, Communication and Media, and Professor Amanda Davis Gatchet, Department of Communication Studies, Montgomery County Community College - Our Need for Seed: How News Media Framed the Pandemic Gardening Boom

11/9/22
JT Singh (and colleagues), WCU Information Services and Technology - The Role of IT in Campus Sustainability Efforts

11/16/22
Professor Casey Bohrman, Graduate Social Work - Sustaining Communities through Transformative Justice

11/23/22
Thanksgiving week

11/30/22
Bradley Flamm, WCU Office of Sustainability (Moderator), with Josh Braid, WCU Grounds Department, and Rodney Mader, WCU Campus Tree Committee Chair - Panel discussion: Realizing the Vision of WCU's Landscape Master Plan
New Eat a Plant, Save the Planet Webpage!

There's a new web space on the Office of Sustainability's site, dedicated to bringing you information and resources on plant-based eating. The Eat a Plant, Save the Planet campus-wide health promotion educates and encourages our community to choose meals, whether dining out or cooking at home, that avoid animal products. Curious to know more? Wondering why eating plant-based is such an important step in a more sustainable future for all? Follow the link below to the webpage for more information, including cooking demos, a digital cookbook, and an interactive story map exploring plant-based dining options on and around campus.
University Shuttle Bus Routes Get a Makeover
New for Fall '22, Color-Coded Shuttle Bus Routes are here! Check out the changes to route names on the university's Shuttle Bus webpage.
Certifications and Memberships
Back to top of page.