Transportation and Parking Services
NOTE: Please see "Transportation and Parking News" below for important updates as the University navigates the challenges posed by COVID-19.
Here at West Chester University, we commute with care. That means, however we choose to make our way to and from campus, we do so with an attitude of care for ourselves, each other, and the environment. We show this attitude of care for ourselves by choosing healthier lifestyles through active modes of transportation like bicycling and walking. We show care to our fellow commuters when we share the road, remain alert, and obey the laws of traffic, ensuring the safety of everyone. We show care for the environment when we make the choice to commute by shared modes of transportation like carpooling or public transit.
On this website you'll find up-to-date information about campus parking services, carpooling, regional transit, WCU's shuttle bus system (including connections to the community via the Uptown Loop and Exton Shuttle), as well as walking and bicycling choices. Please take the time to explore the tabs above; you may be surprised to find a new mode of transit may be possible for you! And regardless of how you choose to commute, commute with care.
Transportation and Parking News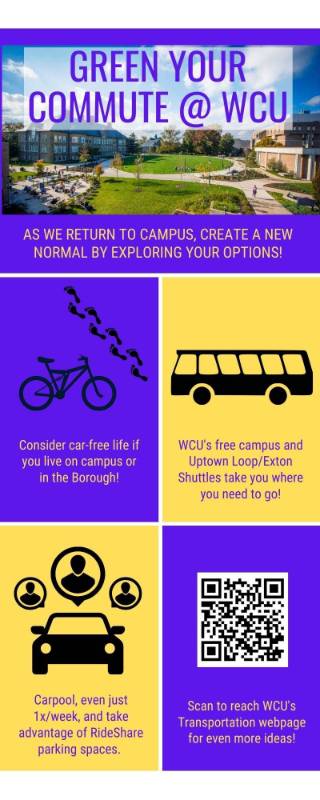 Back to top of page.