Carpooling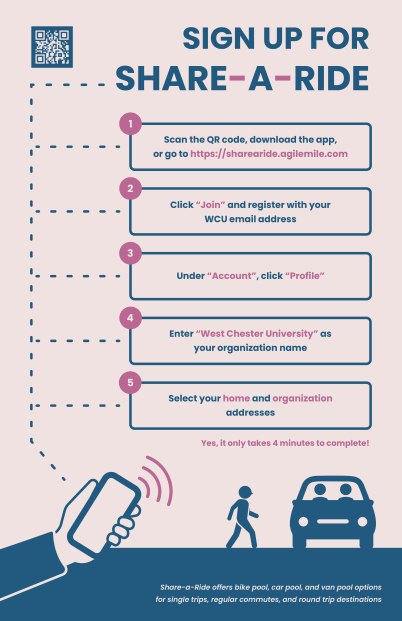 There are nineteen very centrally located RideShare parking spaces on campus for students and employees who share the ride to campus. Consider mixing up your commute by carpooling once a week!
Share-A-Ride: Create or Find a Carpool, Explore Commute Alternatives
West Chester University partners with DVRPC and TMACC to offer the rideshare commuting platform, Share-A-Ride to the campus community. Share-A-Ride helps match commuters interested in establishing a carpool, connect with one another! It's free and easy to use. Just follow the steps below.
Receive suggested matches near you
Reach out to the match that works best for you
Start carpooling!
And there's more: Share-A-Ride shows you more ways to commute to and from WCU – not just carpools, but transit routes, bike routes, and walking routes too!
Besides saving money, CO2, and time fighting for parking space on campus, carpoolers at WCU have access to rideshare parking spaces, appreciation events and other perks as the semester progresses.
RideShare Parking Spaces
For Students and employees who share the ride by carpooling, WCU has nineteen centrally located rideshare parking spaces reserved for two or more people who share the ride. Look for these spaces in these parking lots:
A Lot for Commuter Students, next to the Sharpless Street Garage
B Lot for Employees, south of the Business and Public Management Center
G Lot for Employees, across High Street from Philips Hall
K Lot for Commuter Students, behind Sykes Student Union
L Lot for Employees, off Roslyn Avenue near Rosedale Avenue
M Lot for Commuter Students and Employees, near the E.O. Bull Center
If you feel parking spaces are hard to come by, team up with a neighbor to score one of these primo spots. Be sure to display two or more parking permit tags on the car's dashboard before walking away to ensure you won't be ticketed.
Back to top of page.