All-In-One Recycling
Only put recyclables that are accepted into recycling bins, sorting waste properly is essential to our community's successful recycling program.
What is acceptable?
All items must be empty, clean and dry:
Plastic bottles, jars and jugs
Plastic dairy tubs (yogurt, sour cream, etc.)
Glass bottles and jars
Steel/tin cans
Aluminum cans (do not crush)
Aluminum foil and trays
Moil, soy milk and juice cartons
Plastic cups
Paper cups
What does clean, empty and dry recycling mean?
Containers need to have no food or liquids in them. Give containers a good rinse and let them dry, or wipe them clean with a napkin. Leftover food causes mold to spread to other recyclables and liquids can ruin the fibers in paper, making it harder or unable to be recycled. If you can't get an item clean, put it in the garbage.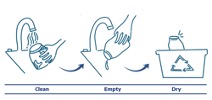 Waste reduction tips
Reconsider your use of single-use containers.
Bring your own reusable water bottle to use at water filling stations.
Plan ahead to avoid buying prepackaged food and drink
Visit the WCU Green Office Program for recycling guides and helpful checklists
Back to top of page.