French
The French Language Undergraduate Program - Bienvenue au programme français!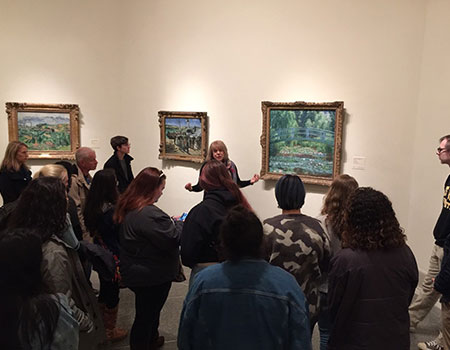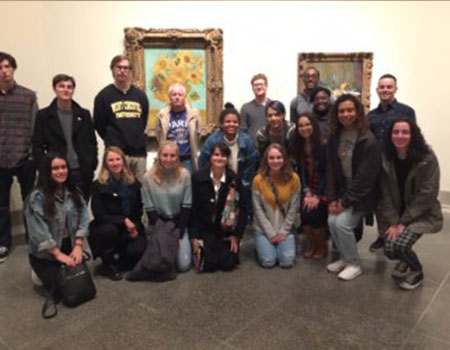 French 201 and French Clubfield trip to the Philadelphia Museum of Arts - Fall 2018 with Dr. Roxane Petit-Raselle
The French program at West Chester offers both a major and a minor at the undergraduate level:
French Major

Our French major consists of ten (10) French courses beginning with FRE 102, also a course in linguistics, a French subject matter course from another department, and a second language up to the 202 level. The major may serve toward PA K-12 State Certification in French, in conjunction with the required pedagogy and methods courses and student teaching.

French Minor

Our minor is 6 courses beginning at FRE 101 or above, limit two 100-level, two 200-level.
We will accept transfer courses for the major and the minor up to 50% of the required credits.
Classes Offered
Basic language courses are offered each semester and summer sessions:
French 101 and 201--first Summer Session; French 102 and 202--second Summer Session.
Advanced courses
FRE 302- Phonetics
FRE 303- Francophone Civilization
FRE 304- Francophone Literature
FRE 305- Writing & Stylistics
FRE 315- Oral Proficiency in Conversation
FRE 350- French Cinema
FRE 401- French Business Culture
FRE 410- Theater
FRE 412- Narrative Structures
FRE 413- Poetry and Poetics
FRE 415- Modernism
FRE 420, FRE 421 and FRE 422 Topics Courses (the subjects change)
The French Language Graduate Program
The French program at West Chester offers a Master's Degree in Languages and Cultures (MALC) with a track in French and a track in French with Teaching Certification.
Graduate Courses
FRE 501- French Business Culture
FRE 505- Advanced Written Expression
FRE 515- Francophone Civilization
FRE 520- Topics
Read More…
Study Abroad Options and Student Activities
We encourage you to spend a semester or a year in France or a French-speaking country with one of the many available programs we can recommend. Our newest program is with IAU in Aix-en-Provence, an exciting choice of courses at all levels in a beautiful historic dynamic city.
Financial assistance for study abroad is available on a competitive basis through several departmental grants (see "Awards").
Our French Club meets for meals, museum tours, films, operas. See the club web page for updates.
Certification
We have the B.A. in French with or without certification, and the new MALC master's program (see our graduate pages).
We also offer Pennsylvania K-12 Certification in French at the undergraduate and graduate levels (see the Certification page).
French Club
The French Club gathers for meals, museum visits, film and concerts.
Bienvenue Au Programme De Français De West Chester University
Cours de langue et de civilisation Généraux
Français niveau débutant et intermédiaire
FRE 101 et 102 pour la premiére année;
FRE 201 et 202 pour la deuxiéme année.
Civilisation (cours en anglais)
EFR 320- Civilisation francophone
EFR 330- Civilisation de l'Afrique francophone
EFR 350- Cinema
Read More…