Literacy
Welcome to the Literacy Department! We believe that the opportunity to learn to read and write from a highly qualified teacher is a civic right that all children should have. To this end, we prepare teachers in the science of reading, structured literacy, and culturally relevant pedagogy - all important elements of our research-based Comprehensive Literacy Instructional Framework. Our faculty – all experienced classroom teachers and/or reading specialists/literacy coaches – will teach you the what, the why, and the how of effective literacy instruction. Your program will include a closely supervised practicum experience in which you directly work with children learning to read and write. By the end of our program, you will develop the tools to become an influential teacher who leads and advocates for social justice in your community, and beyond.
Mission Statement
The Literacy Department educates preservice and professional teachers to be lifelong learners who develop expert knowledge of language and literacy development and literacy instruction and assessment. Our students will become influential teachers who are leaders and advocates for social justice in their communities.
The Literacy Department's vision is aligned with the University's vision and the College of Education and Social Work's mission and student learning outcomes. The CESW's six student learning outcomes are elaborated upon to reflect the Literacy Department's goals and vision.
Evidence-based decision makers. Candidates use the most current research in the literacy field to select best practices for the students they teach.
Life-long learners. Candidates pursue professional development opportunities through post graduate education and literacy advocacy organizations throughout the course of their careers.
Scholars. Candidates create new knowledge as they conduct research, critically evaluate literacy learning, and design curriculum and assessment.
Implementers of innovative and applied technology. Candidates use digital and other literacies to construct knowledge and develop learning opportunities for their students. Their use of multiliteracies transforms the teaching-learning process and encourages their students to collaborate with other learners at local, national and global levels.
Social justice advocates. Candidates view literacy knowledge as essential for students to reach their potential as both learners and workers in 21st century society. They find ways to make the literacy and learning environment more equitable for all.
Reflective and skilled practitioners. Candidates develop a clearly articulated philosophy of literacy teaching, reflect on their practice, and identify methods to make their teaching more responsive to student needs.
Council for the Accreditation of Educator Preparation (CAEP)
The International Literacy Association's Professional Standards
Pennsylvania Department of Education
Program Highlights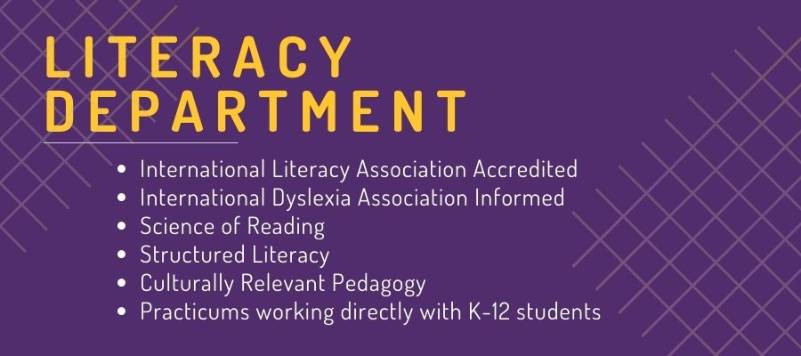 The Literacy Department helps to prepare undergraduates, graduates, and professional educators to be reflective teachers. Our students learn to construct and convey understandings about:
language and literacy development
literacy instruction
assessment
Literacy courses also teach students to recognize the positive contributions of cultural, linguistic, and ethnic diversity.
Students within our Literacy programs graduate with the tools they need to facilitate the development and learning of their students. They will also graduate with the knowledge to lead and meet the changing educational needs within their communities.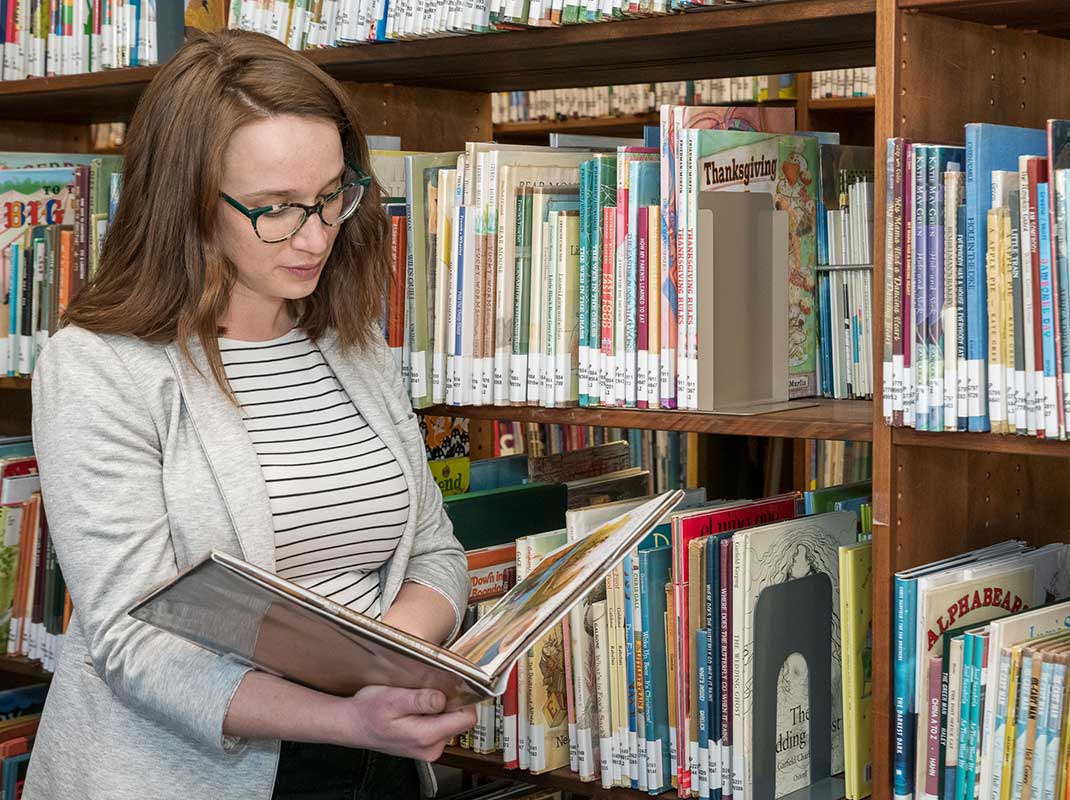 Helpful Links and Resources