Secondary Education and K-12 Health and Physical Education
Welcome to the Secondary Education and K-12 Health and Physical Education Department. The department offers undergraduate and graduate programs for those who wish to be certified to teach children from grades 7 – 12. The graduate program leads to a Master's degree, M.Ed., with teaching certification. The M.Ed. can be completed as a one-year residency model or as a part-time program. We are proud of our programs, our faculty, and our candidates who exit the programs prepared for success as teachers and leaders in various education contexts. We invite you to explore our programs and opportunities.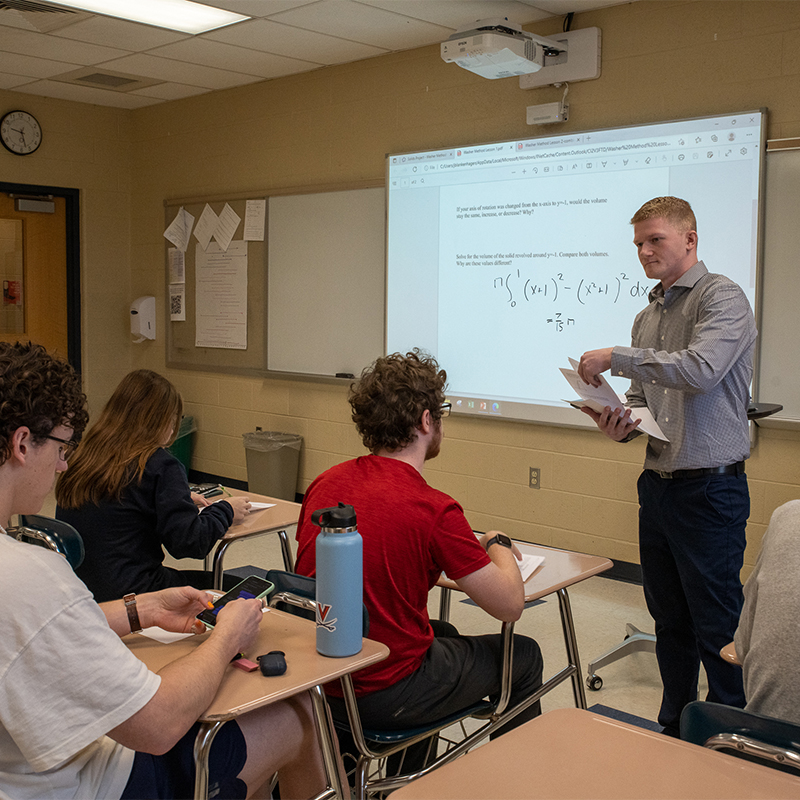 Program Overview
Undergraduate students who are interested in becoming teachers of grade 7 – 12 students. Our program has a variety of field experiences in different grade levels and settings throughout the four-year program.
Graduate students who are interested in becoming teachers of grade 7 – 12 students and have a content background in Mathematics, Biology, Chemistry, Physics, Earth and Space Science, English, History, Political Science, or Geography. Our program helps students earn an M.Ed. and teaching certification either in a one-year residency model or a two to three year part-time program.
We educate teachers to be leaders and inspire learning in students.
The Department of Secondary Education fosters in its teacher candidates a deep respect for, and understanding of, the knowledge and skills that each of the major disciplines cultivates and advances. Our candidates engage in a sequence of cross-disciplinary seminars that integrate content knowledge with the relevant theories, research, and practices of learning at the secondary level. They apply those understandings in meaningful, active, and practical clinical experiences. Teacher candidates acquire an appreciation for the assets that all children bring to their classrooms and develop the skills for differentiating and educating diverse student populations. They cultivate the dispositions, knowledge, and skills to become educators, leaders, and life-long learners in their profession and in the global community.
Following the path of our mission and values, graduates will attain:
Mastery of Effective Teaching Practices - Graduates inspire learning in all students and are required to master instructional strategies that will engage students in an active sense-making process.

Promotes learning in all students
Displays evidence of a variety of effective instructional strategies

Teacher Knowledge - Development of a deep understanding of content and its integration into practice order to support methods of inquiry in their respective disciplines.

Shows understanding of content and content related practices
Supports methods of inquiry through teaching practices

Leadership Abilities - Graduates are leaders in their classrooms and communities. They cultivate professional dispositions and responsibility to become self-directed practitioners, leaders, and advocates for their students, schools, communities, disciplines, and profession.

Demonstrates professional dispositions
Communicates effectively and advocates on behalf of students, communities, disciplines, and profession.