Sustainability
Who We Are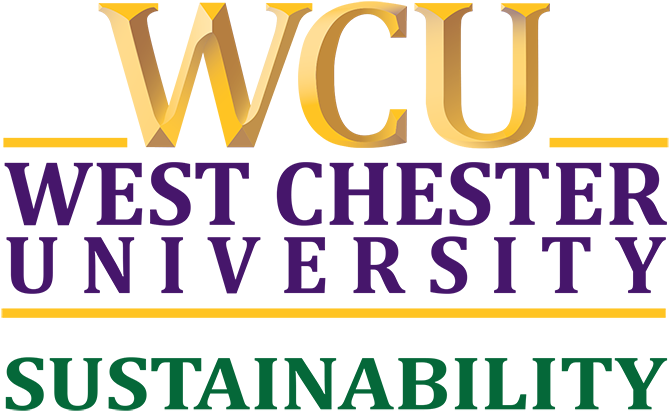 To live and work sustainably means to perpetuate the health and welfare of people, economies, and the environment. Sustainability is about ensuring that all people - today and into the future - can live in healthy communities and participate in productive local economies without sacrificing environmental integrity. It's a simple yet powerful concept that ties together human happiness and well-being with the quality and health of environmental systems. Thus, sustainability issues incorporate such wide-ranging topics as biodiversity loss, climate change, social justice, and more.
West Chester University seeks to be a leader in local, regional, and global sustainability efforts. This website documents the university's efforts in sustainability and provides numerous resources for individuals, organizations, and communities.
Join us as we carry out the single most critical task of the 21st century!
News and Upcoming Events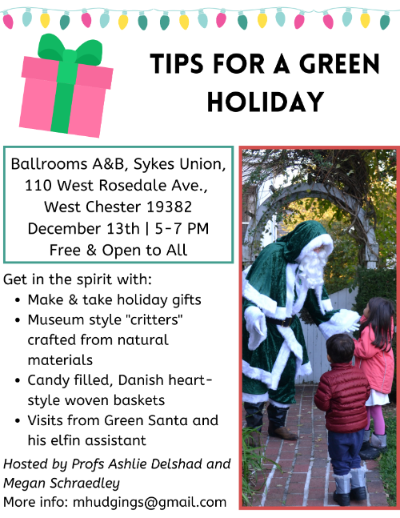 Tips for a Green Holiday Event with the West Chester Green Team
Join the West Chester Green Team, the Office of Sustainability, and WCU Professors Ashlie Delshad and Megan Schraedley for a green holiday event on Tuesday, December 13th from 5pm - 7pm in the Sykes Student Union, Ballrooms A&B. This fun filled, hand-crafted evening is free and open to everyone, featuring make and take holiday gifts, visits from Green Santa and his elfin sidekick, and a hot chocolate bar for guests. Make this holiday season unique with gifts for loved ones that are handmade from natural materials right here in Chester County.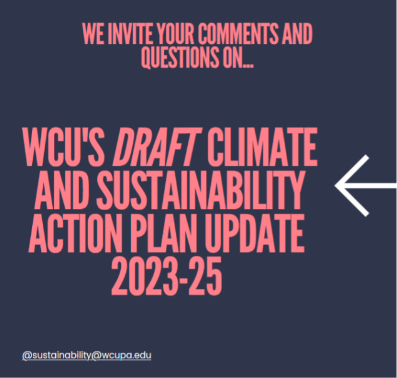 WE ARE UPDATING WCU'S CLIMATE (AND SUSTAINABILITY) ACTION PLAN
WEST CHESTER UNIVERSITY'S SUSTAINABILITY COUNCIL AND OFFICE OF SUSTAINABILITY are working to update WCU's 2013 Climate Action Plan: Carbon Neutrality by 2025 and looking for comments from students, faculty and staff. Visit our Plan for Carbon Neutrality page to review the draft and offer feedback!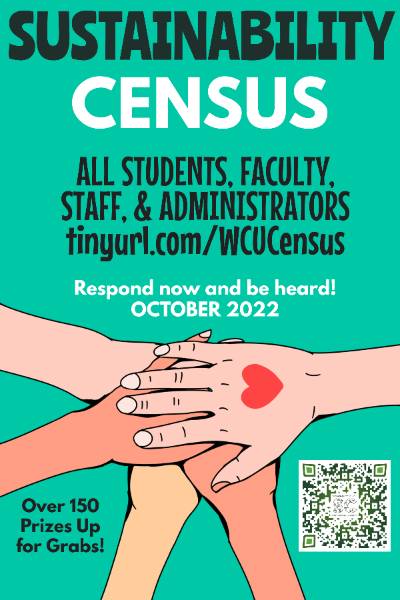 Take the WCU Sustainability Census Today!
WCU's Sustainability Census is here and your participation is needed! All students, faculty, staff, and administrators are invited to contribute. Respondents who complete the full survey will be entered into a lottery with the chance to win one of 150+ sustainability-minded gifts! Gift cards available for Gemelli's Gelato and The Couch Tomato in the WC Borough, and a 99% recycled material tote bag.
Click to access the Sustainability Census survey (~10 minutes to complete).
Why is this important?
Societal sustainability is the most crucial social problem of our generation. As an institution responsible for educating the next generation, WCU's leadership and action toward a sustainable future is imperative. The Sustainability Census is a WCU campus-wide survey of sustainability knowledge, literacy, behaviors, and culture.
The Sustainability Census survey takes approximately 10 minutes to complete and spans four central categories: (1) sustainable actions; (2) beliefs and risk perception; (3) knowledge and literacy; and (4) background and demographics. Aligned with WCU's Strategic Plan, Pathways to Student Success, as well as WCU's Climate Action Plan, the Sustainability Census will serve as a benchmark for members of the Sustainability Council and Office of Sustainability to comprehensively evaluate and advance the current state of sustainability across campus. Should you have any questions about the Sustainability Census or wish to become more involved with sustainability at WCU, please contact Aliza Richman (arichman@wcupa.edu).
We thank you for your participation and helping advance sustainability at WCU!
The Sustainability Census Research Team
Principal Investigator: Dr. Aliza Richman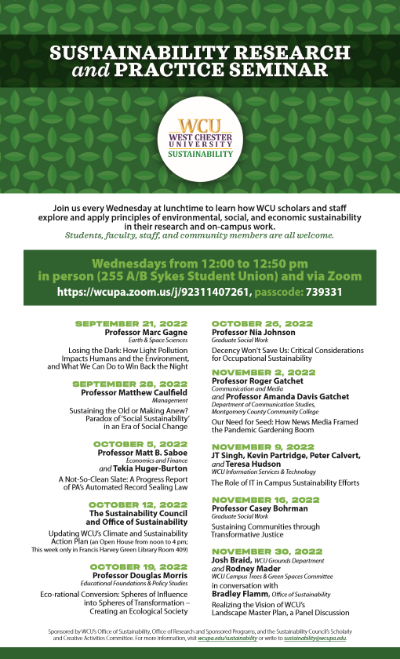 Fall 2022 Sustainability Research and Practice Seminar

Another exciting round of presentations is getting under way as the Sustainability Research and Practice Seminar returns for the Fall 2022 semester! Below you'll find a full lineup of speakers and topics bound to entice, from a wide range of disciplines. These weekly seminars are hosted on Wednesdays during the lunch hour, 12pm to 12:50pm, making it easy to stop in for a casual and fascinating break. The Sustainability Research and Practice Seminar is hosted in Sykes 255 A/B and on Zoom, link below.
Zoom Link:
https://wcupa.zoom.us/j/92311407261?pwd=cEZkU2MrdXpNNTlSM3FYc1lpVDNzUT09
Meeting ID: 923 1140 7261
Passcode: 739331
Speaker Schedule
9/21/22
Professor Marc Gagne, Earth and Space Sciences - Losing the Dark: How light pollution impacts humans and the environment, and what we can do to win back the night

9/28/22
Professor Matthew Caulfield, Management - Sustaining the Old or Making Anew?: A Paradox of 'Social Sustainability' in an Era of Social Change

10/5/22
Professor Matt B. Saboe, Economics and Finance, and Tekia Huger-Burton - A Not-So-Clean Slate: A Progress Report of PA's Automated Record Sealing Law

10/12/22 in the FHG Library, Room 409
The Sustainability Council and Office of Sustainability - Updating WCU's Climate and Sustainability Action Plan (an Open House from noon to 4 pm)

10/19/22
Professor Douglas Morris, Educational Foundations & Policy Studies - Eco-rational conversion: spheres of influence into spheres of transformation - creating an ecological society

10/26/22
Professor Nia Johnson, Graduate Social Work - Decency Won't Save Us: Critical Considerations for Occupational Sustainability

11/2/21
Professor Roger Gatchet, Communication and Media, and Professor Amanda Davis Gatchet, Department of Communication Studies, Montgomery County Community College - Our Need for Seed: How News Media Framed the Pandemic Gardening Boom

11/9/22
JT Singh (and colleagues), WCU Information Services and Technology - The Role of IT in Campus Sustainability Efforts

11/16/22
Professor Casey Bohrman, Graduate Social Work - Sustaining Communities through Transformative Justice

11/23/22
Thanksgiving week

11/30/22
Bradley Flamm, WCU Office of Sustainability (Moderator), with Josh Braid, WCU Grounds Department, and Rodney Mader, WCU Campus Tree Committee Chair - Panel discussion: Realizing the Vision of WCU's Landscape Master Plan
Certifications and Memberships
Back to top of page.