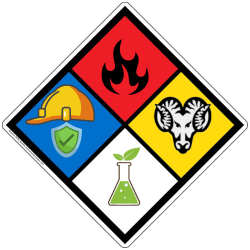 The Department of Environmental Health and Safety (EHS) is responsible for the development and implementation of environmental and all occupational health and safety programs throughout West Chester University's campus. EHS has four areas of responsibility: Occupational Health and Safety, Fire Safety, Environmental Protection, and Laboratory and Research Safety.
Regular inspections are performed in buildings and EHS monitors all adverse environmental exposures. The department is here as a service and support unit within Facilities and also acts as the liaison for the university with regulatory agencies in the fields of occupational and environmental health and safety.
Safety Policy Statement
West Chester University through instruction, research, and community service, protects the safety and health of our employees, students, and visitors. A comprehensive Workplace Health, Safety, and Risk Control program, to include but not limited to safety and health procedures, job training, and remediation or elimination of hazards, has been established to help prevent injury and illness due to recognized hazards. A University Safety Committee, comprising of a cross representation of the university campus, has been established to provide guidance and advice to the Department of Environmental Health & safety. Individual involvement at all levels of the university is critical. Hence, responsibility for implementation of the health, safety and risk control program is shared by all.
The University Administration accepts its leadership responsibility for achieving a safe work and education environment by providing direction to reduce injuries and illnesses. Directors, Department Heads, and other supervisors provide full support regarding safety and health procedures and are also responsible for ensuring safety and loss prevention measures are integrated into all campus operations including academic courses. Employees and students will continuously comply with all aspects of the workplace Health, Safety and Risk Control program and ensure visitors coming into their areas are protected from hazards.
Topics of the month
Click image to make larger
Back to top of page.