The Department of Sports Medicine, within the College of Health Sciences, prepares students for careers in the athletic training and physician assistant fields.
Athletic Trainers (ATs) are health care professionals who work collaboratively with physicians. The services provided by ATs are injury prevention, emergency care, clinical diagnosis, therapeutic intervention, and rehabilitation. As part of a sports medicine health care team, the certified athletic trainer works under the direction of a licensed physician and in cooperation with other health care professionals in the promotion of a safe environment for sport and physical activity.
Physician Assistants (PAs) are medical professionals who diagnose illness, develop and implement management plans, prescribe medications, and often serve as a patient's principal healthcare provider. With thousands of hours of medical training, PAs are versatile, empathetic, and collaborative. PAs practice in every state, in every medical setting, and every medical specialty, improving healthcare access and quality.
Accreditation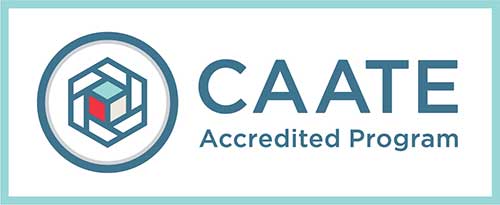 WCU AT program outcomes data (exam pass rate, graduation and employment rate, program retention rate)
Back to top of page.