Athletic Training Awards & Scholarships
The Department of Sports Medicine bestows four awards each year.
The Croce Scholarship is given to an outstanding first-year student. The award is approximately $1000 and is based upon the financial performance of the $50,000 Endowment Fund created by Pat Croce.
The Taylor Scholarship is given to an outstanding sophomore (with preference to those with financial need or minority students). The award is approximately $750 and was created to honor Brad Taylor, long-time professor in WCU Athletic Training Program.
The Weiss Scholarship is given to an outstanding junior or senior (with preference to those who have been at Swarthmore College). The award is about $500 and is funded by an Endowment created by the friends of Douglas Weiss, former Head Certified Athletic Trainer at Swarthmore College and long-time mentor of WCU Athletic Training Students.
The Phillip B. Donley Outstanding Senior Athletic Training Student award is approximately $2,000 and is based upon the Endowment Fund created in Mr. Donley's honor.
2013 - Ashley Gray
Previous Weiss Winners:
2016 Colin Mascola
2015 Amy Toner
2014 JohnAnthony Rossi
2013 Ashley Gray
2012 Emily Henderson
2011 Claire Larkin
2010 Alexandra Schubert
Previous Taylor Winners:
2016 Nikki Owens
2015 Jillian Sarm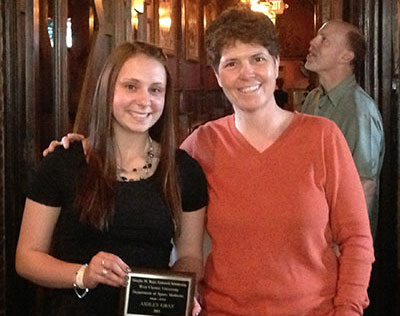 2013 - Emily Henderson
Most scholarships are handled by the West Chester University Financial Aid Office. Please contact that office with questions about other scholarships and award opportunities. Previous Donley Winners:
2016 Amy Toner
2015 Emily Teson
2014 Lauren Kriebel
2013 Emily Henderson
2012 Andrew Waer
2011 Alexandra Schubert
2010 Christopher Herb
Previous Croce Winners:
2016 Nick Gentile
2015 Gabrielle Termini
2014 Jordan Crills
2013 Amy Toner
2012 Jenna Morogiello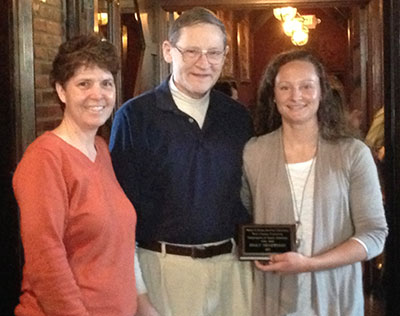 Congratulations to the following scholarship winners!
PATS & EATA Scholarships (2013) recipient Mario Mascioli (class of 2013)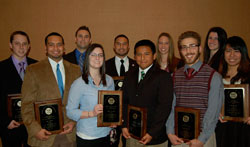 Jack Cramer Scholarship (2011) recipient Tonya Doyle (dual-degree student)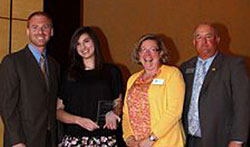 Tonya Doyle, whom was a senior this past school year at Central Dauphin High School and acting as a student athletic trainer aide since her junior year, was the recipient of the National Athletic Trainers' Association Jack Cramer Scholarship. She was presented with a plaque and $2,000 scholarship in June at the Pennsylvania Athletic Trainers' Society Annual Symposium.
"I'm ecstatic to say that this scholarship is only given to one individual in the nation and Tonya was chosen as this years recipient...quite a feat! I wanted to share the e-letter below that Cramer Sports Medicine wrote on Tonya this month." Craig Kemmlein, MS, ATC, Athletic Trainer, Central Dauphin High School
Cramer article.
Back to top of page.