ACCELERATED BACHELOR'S TO MASTER'S IN TESOL WITH ESL SPECIALIST CERTIFICATE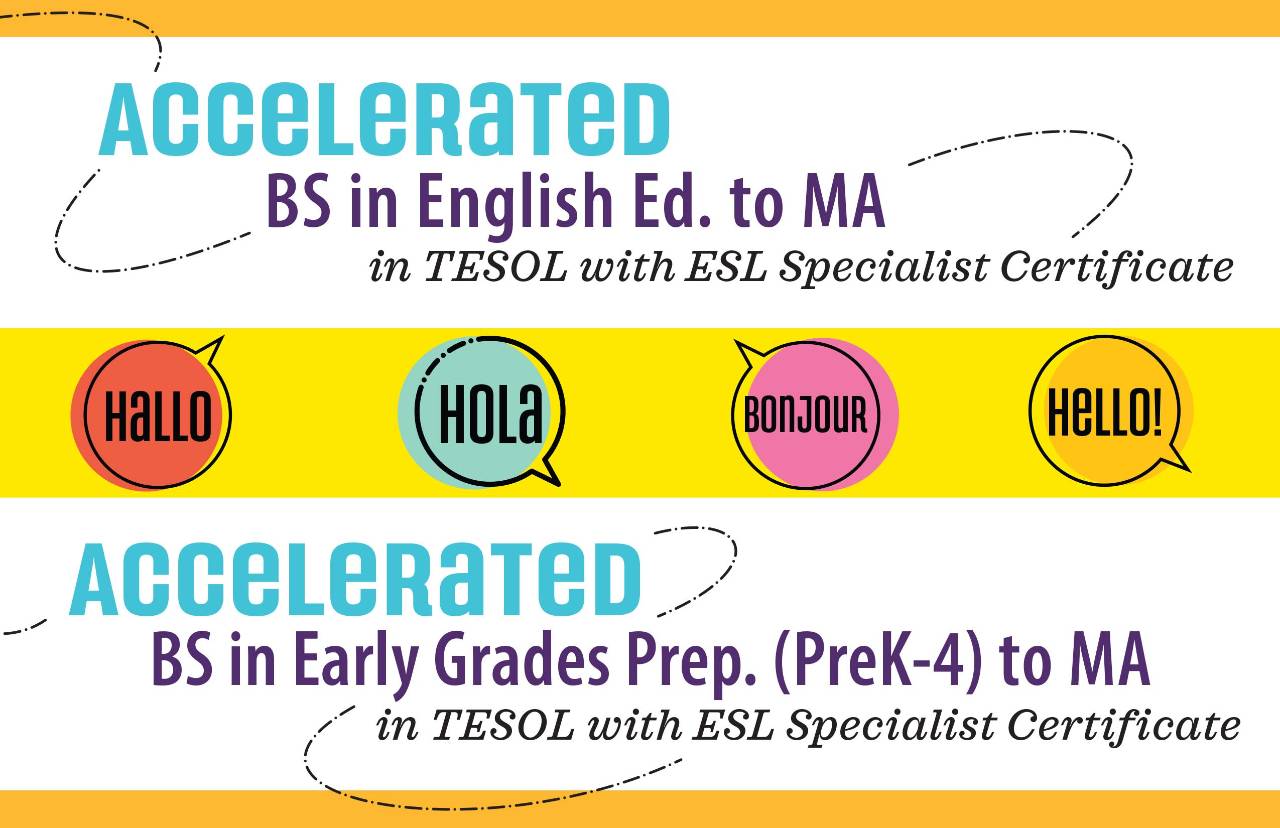 B.S. in Early Grades Preparation (PreK-4) and B.S. in English Ed. majors are eligible to apply. Students with junior standing [or after completing 60 credits] and a 3.0 cumulative GPA [or higher] may apply to the Accelerated Program wherein they can fulfill up to 12 credits of their undergraduate major courses with 500-level graduate courses in TESOL.  
HOW DOES IT WORK?
In the Accelerated Program, up 12 credits in 500-level courses count toward completion of the B.S. program and also go toward the completion of the M.A. degree in TESOL with ESL Specialist Certificate.
Accelerated Program students pay undergraduate tuition for graduate courses and are subsequently accepted into the M.A. program in TESOL with ESL Specialist Certificate following conferral of the undergraduate degree. Once admitted in the MA program, accelerated students take two (2) more courses to complete the ESL Certificate and seven (7) more courses to complete their MA curriculum.
APPLICATION?
B.S. in Early Grades Preparation (PreK-4) and B.S. in English Ed. with 3.0 Cumulative GPA are eligible to apply
Students may begin Accelerated courses in their Junior year, or as soon as they have completed 60 credits
Submission Materials:

A brief goals statement (1-3 paragraphs)

Let us know about your academic, professional, and/or cultural experience and interest in TESOL

Accelerated Bachelor's to Master's Degree Enrollment Request Form [here are Directions for Submission
QUESTIONS?
What can I do with M.A. in TESOL with ESL Specialist Certificate?
Apply to a doctoral studies program in the areas of applied linguistics, second language studies, and education
Teach English as a second/foreign language (at domestic universities; universities and language academes abroad)
Teach ESL in PA public schools (Pk-12 ESL Specialist)
Write/edit ESL materials
Write and rate ESL Assessments
Direct/Coordinate ESL programs in various contexts
Academic advising
Private ESL tutoring
Back to top of page.